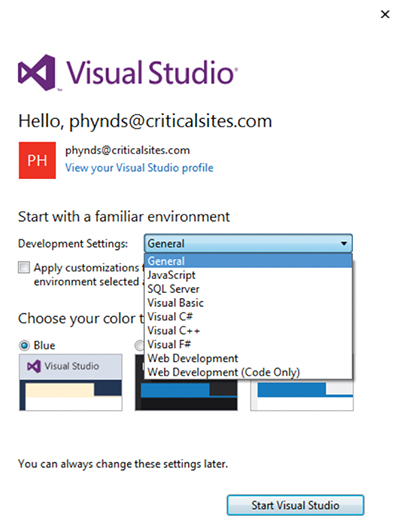 Visual Studio 2013 is the latest version of Microsoft's premier, consistently productive developer franchise. At first glance this release feels more like a service pack update to Visual Studio 2012 than a new major update. The fact that it comes just a year since the last release reinforces this view.
These conclusions are a big disappointment to some and have contributed to a chorus of pundits arguing for sitting this version out. The key to making this judgment without haste is to look at progress outside Visual Studio that this new version enables developers to leverage. Only then can you decide if you should drive your development to Visual Studio 2013.
Enhanced Windows Store and Azure development is a big factor in where this new release will take you and why some might find it worth upgrading so soon after the last major release. If you are already doing Windows Store development or are entrenched in Azure as your platform, then Visual Studio 2013 is an obvious choice. Users of Team Foundation Server will almost certainly find a great deal to like about this new version, but for many others there simply might not be enough to make the jump—unless they skipped Visual Studio 2012 or got it included with an MSDN subscription, something Microsoft seems to be pushing users toward more firmly in each round.
To install or not install
There are two ways to get up and running with Visual Studio 2013. The traditional way is to straight up install it on your client machine. If during this process you opt for the default of installing all options, including Blend, LightSwitch and the Silverlight Development Kit, you will need 9.5GB of free space. Anyone with a history with Visual Studio knows the drill and can then start customizing.
The first customization choice is presented when you first launch Visual Studio, where the user is presented with the choice of what kind of development he or she intends to do on the system. In Figure 1, you can see the choice offered to configure the development environment based on the kind of development you do most. Unless one of the choices really speaks to what you do as a specialty, then choosing "General" is a safe bet. Once you are down this road, backups and system restore points are vital to ensuring that if something goes wrong, you can recover quickly.
The other, much newer way to get things started with Visual Studio 2013 is to use a cloud-based virtual environment hosted on Windows Azure. Microsoft now offers a full Visual Studio 2013 install as a virtual machine available via the gallery, and thanks to changes in the charge model that makes virtual machines free when they are turned off, you only have to pay for the time that you are using it. Just remember to power it down when you are done.
#!This cloud-based option has great potential, but let's not forget that the most over-hyped word in technology in recent years is "cloud." The world has rapidly filled with cloud offerings, many of which are either ill-conceived, disingenuous in that they really have nothing to do with anything cloud-related, or are doomed. Duane Laflotte, CTO of CriticalSites, explained how he approaches the risks around any cloud offering like this: "I always weigh the risk before building my company processes around systems in the hands of others, and anything cloud fits this category."