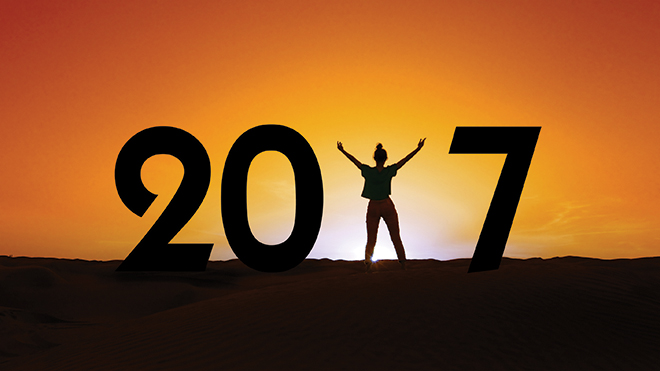 John Schroeder, executive chairman and founder of MapR
AI is now back in mainstream discussions, and is the umbrella buzzword for machine intelligence, machine learning, neural networks, and cognitive computing. Why is AI a rejuvenated trend? The three V's come to mind: Velocity, Variety and Volume. Platforms that can process the three V's with modern and traditional processing models that scale horizontally providing 10x-20x cost efficiency over traditional platforms.
Google has documented how simple algorithms executed frequently against large datasets yield better results than other approaches using smaller sets. We'll see the highest value from applying AI to high-volume repetitive tasks where consistency is more effective than gaining human intuitive oversight at the expense of human error and cost.
Eric Mizell, vice president of global solutions engineering at Kinetica
Real change is coming to real-time intelligence in 2017 with graphical processing units. GPUs are capable of delivering up to 100x better performance than even the most advanced in-memory databases that use CPUs alone. The reason is their massively parallel processing, with some GPUs containing over 4,000 cores, compared to the 16 to 32 cores typical in today's most powerful CPUs. Amazon has already begun deploying GPUs, and Microsoft and Google have announced plans. These cloud service providers are all deploying GPUs for the same reason: to gain a competitive advantage.
Viktor Farcic, senior consultant at CloudBees
A significant change in 2017 will be focused not so much around running containers, but scheduling them inside clusters. Solutions like Docker Swarm, Kubernetes, Mesos, etc. will become mainstream. We will see more solutions that will go beyond simple scheduling. We'll see the rise of self-healing systems. In 2017, the battle for the "uber orchestrator" will become much more prominent.
One of the most exciting areas that will become prominent in 2017 will be unikernels. While the majority of the industry is still trying to wrap their heads around containers, we will start seeing unikernels taking over the stage. They will, in a way, unify functionalities provided by VMs and containers.
Abdul Razack, senior vice president and head of platforms at Infosys
Despite the advancements we've made in artificial intelligence, it is not a one-to-one replacement for people. While the technology amplifies human abilities, you cannot teach AI systems to be proactive, creative or think on their feet. In 2016, AI was applied to solve known problems. And as we move forward, we will start leveraging AI to gain greater insights into ongoing problems that we didn't even know existed. Using AI to uncover these "unknown unknowns" will free us to collaborate more and tackle new, interesting and life-changing challenges.
Scott Miles, senior director of cloud, enterprise and security portfolio marketing at Juniper Networks
In 2017, automation and analytics will help organizations address the shortage of security personnel. Often organizations invest heavily in effective security hardware and software, but lack the security specialists necessary to ensure their effectiveness.
As an example, breaches like the ones that impacted Target and Home Depot were detected by their high-end security systems, but the security operations practitioners were too overwhelmed by the thousands of alerts they received per hour to see which ones posed the most imminent threat. As automation becomes more integrated into security solutions, security personnel will receive fewer notifications with more relevance, relieving them of the manual task of hunting through a sea of alerts to find the truly malicious ones.
Roy Solomon, cofounder and vice president of product management at Applause
Companies of all sizes will put more emphasis on great digital experiences as users expect brands to engage with them through the digital channel of their choice, not the other way around. To facilitate this, companies will need to ensure all of their digital platforms create seamless user interactions, which means a heavier focus on technical elements that go beyond traditional QA such as APIs, in-app bug reporting and crash reports, as well as on great usability.
David Lee, vice president of platform products at RingCentral
There will be an exponential increase in the use of Web Real Time Communication (WebRTC) services for web and mobile apps. Driving this adoption is the enterprise need to provide rich interactions where workers can communicate seamlessly with each other. By being able to build those capabilities out of HTML and JavaScript, WebRTC will increasingly become the easiest and most popular choice for developers to embed real-time communications capabilities into custom applications.
Andrew Levy, Cofounder of Apteligent
2017 is a critical year for Microsoft. They have failed in the phone market with less than 1% market share, took a $7.6 billion write-down on their Nokia acquisition, and laid off thousands of employees. It also looks like they will discontinue the Lumia brand. On the flipside, they have found success with their Surface brand, especially the Surface Pro.
Most expect Microsoft to introduce a Surface Phone in 2017. Its Continuum product makes this especially interesting since your phone becomes your mobile desktop, capable of connecting to a larger monitor and input devices like a mouse and keyboard. It's not clear where Microsoft goes in the smartphone market from here if the Surface Phone fails. Perhaps it's their investments in the HoloLens. If this type of wearable is the future of computing (and telecommunications), then they will be well positioned for the future.
Ashley Kramer, director of product management and head of cloud strategy at Tableau
Many organizations are living a hybrid reality split between on-premises and cloud environments—cloud is no longer isolated from your on-premises data and infrastructure. Vendor investments in migration tools and strategies will help customers navigate through this hybrid world. For the end user, these solutions make complex hybrid environments function as one cohesive system. Investments in hybrid software will remain fully relevant even as organizations shift operations toward an all-cloud future.
Sean Regan, JIRA Software and Bitbucket team lead at Atlassian
The small, agile software team has never been more empowered as microservices, Continuous Delivery and cloud platforms rise in prominence and accelerating software development. The bottle­neck today isn't hardware; it is people. You can't scale people like you can scale cloud computing.
As a result teams will be looking for ways to collaborate better and faster on high-value work and less on low-value repetitive work. We can expect to see a significant investment in collaboration and automation tools for DevOps practices, where simplistic tasks that require the speed and efficiency of modern computing will be handed over to the "robots" to accomplish.
Sirish Raghuram, CEO of Platform9
We will see serverless technologies gain real traction in 2017. The first use case that will drive adoption in 2017 is bot development. Today, a lot of DevOps automation involves writing bots that integrate with various systems using webhooks. Serverless makes this incredibly natural and easy. Another major use case is making it easier and faster to start using containers without having to fully learn and understand all the concepts to systems such as Kubernetes.
With an intuitive experience that abstracts away the underlying layers of clusters, pods, networks and storage, serverless presents a developer-friendly consumption paradigm for containers and Kubernetes.
Jeff Prus, vice president of product management at QuickBase
Developers' roles will be redefined: They'll no longer be considered "IT" workers. In 2017, we'll see organizations start thinking outside the box to help fill development needs and seek out empowered problem solvers, regardless of where they sit in the organization. While coding skills will continue to be important and in high demand, in many cases they will no longer be the end-all, be-all.
While the definition of "developer" won't change overnight, 2017 is likely to mark the onset: Gartner predicts that by 2020, 60% of all fast-mode application development projects will be done outside of formal IT teams. This shift will present new challenges, as organizations of every size change the way they attract, evaluate and measure the performance of developers.