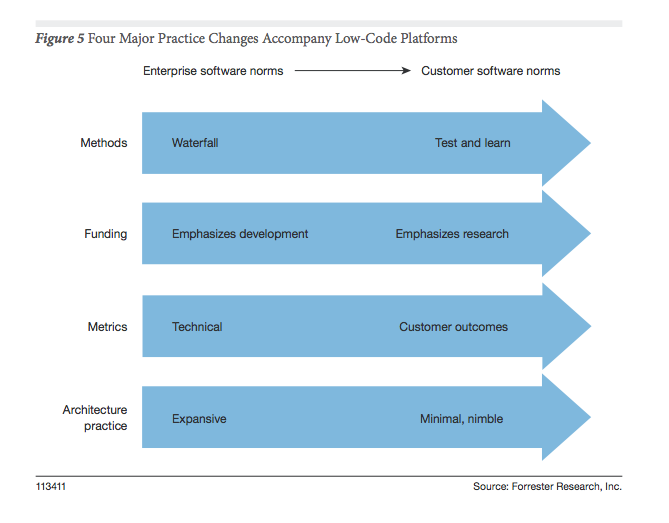 The operative word in software development is "speed." Enterprises and application development teams are looking to adopt any techniques that'll expedite software development and delivery. For customer-facing applications in particular, a growing trend to meet this demand is the rising popularity of "low-code" development platforms.
Low-code application development platforms are designed to enable rapid creation, quick setup and deployment of applications with a minimum of traditional "hand coding." For applications and systems engaging directly with customers, low-code platforms provide visual tools to quickly define and build forms and user experiences. Traditional coding is still essential in deploying an application to production, but visual low-code tools are gaining traction throughout the development process (for building out multi-stage workflows and configuring data models, as examples).
According to research firm Forrester, which coined the term "low-code," the driving factor behind the rise of low-code platforms is the pressing need for companies to deliver and adapt high volumes of new apps fast, combined with dwindling developer resources to hand-code the overabundance of new applications. Forrester recently published a report on low-code development entitled "New Development Platforms Emerge For Customer-Facing Applications," which explains why low-code platforms have taken hold, breaks down the software companies in the space, and discusses why low-code development is a solution, not a shortcut.
But really, what is low-code development?
Low-code development isn't a completely new concept; it's simply a practice that had never been defined before. According to Forrester analyst Clay Richardson, one of the report's co-authors, the official term's origins trace back to a 2011 report on new productivity platforms for custom applications.
"Around [that] time, Forrester began highlighting the need for workflow and process-change platforms to become more lightweight and nimble," he said. "We decided to bring these two streams of research together in 2013 to focus on speeding up development for customer-facing applications, which is where the term 'low-code' really stuck. Through dozens of interviews with companies, we found that the low-code imperative was strongest for teams trying to quickly build apps in response to customer demands and customer needs."
Beyond the obvious benefit of cutting down on coding to accelerate development, low-code platforms also provide a single point of control to configure, deliver and maintain apps. In these centralized environments, developers can merge design, development and deployment under the same platform, allowing not only for responsively designed Web and mobile applications, but also the freedom to experiment based on the customer or enterprise requirements.