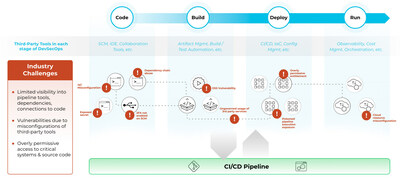 Palo Alto Networks unveiled its CI/CD Security module which aims to offer comprehensive software delivery pipeline security integrated into code-to-cloud capabilities within Prisma Cloud's CNAPP platform. 
Prisma Cloud focuses on safeguarding the CI/CD environment and effectively shielding against potential open-source vulnerabilities using software composition analysis, according to the company in a blog post. 
"A major challenge in securing CI/CD pipelines is visibility. The myriad of third-party tools and applications running in development environments makes it almost impossible for security teams to determine if they are correctly configured," said Ankur Shah, senior vice president of Prisma Cloud at Palo Alto Networks. "The integration of Cider's capabilities secures the CI/CD environment and gives Prisma Cloud customers the ability to analyze individual tools, visualize how they interact with applications and each other, and identify and remediate risks."
The CI/CD Security module empowers collaboration between DevOps and security teams, leading to enhanced security outcomes throughout the application life cycle, the company explained. 
When integrated into the existing Prisma Cloud platform, which comprises features such as Secrets Scanning, Software Composition Analysis, and Infrastructure as Code Security, it allows organizations to bolster security and risk prevention across the entire software delivery pipeline. 
According to Palo Alto Networks, this integration facilitates a comprehensive and holistic security approach that surpasses the capabilities of individual, isolated solutions.