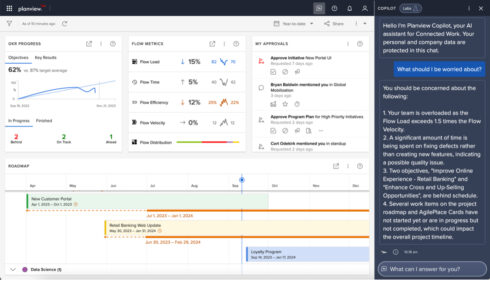 Project management company Planview has unveiled Planview Copilot, an advanced AI assistant designed for connected work, during its annual event, Planview Accelerate. 
This AI assistant, trained using a comprehensive dataset, provides operational insights in Portfolio Management, Value Stream Management, and Agile Planning and Delivery. It aims to expedite data-driven strategic decision-making through a conversational interface.
"As organizations embark on a growing number of digital transformation initiatives while leveraging a plethora of tools to execute them, there is a tremendous opportunity to reimagine how smarter decisions can be made to accelerate business outcomes," said Razat Gaurav, CEO at Planview. "Planview Copilot leverages all the relevant data across project and product initiatives and brings insights, decision support, and actions through a simple, conversational interface. This is an important evolution in our journey from being a system of record to becoming a system of insights for digital transformations."
Planview Copilot distinguishes itself by utilizing a vast range of operating data sources that are not accessible to other AI assistants. This includes exclusive strategy-to-delivery data from Planview's portfolio planning, enterprise agile planning, and delivery solutions. It also incorporates broader data from various team tools through over 60 of Planview's connectors in the Flow Fabric. 
It can also access an organization's past and present initiative data. By combining this data with methodologies like Planview's Flow Methodology and Agile Principles, Planview Copilot has the capability to coach and mentor users, helping them identify and address bottlenecks throughout the entire strategy-to-execution process.
"Building the future of connected work starts with a deep, insightful understanding of how our customers deliver services, launch products, and successfully implement their strategies," said Richard Sonnenblick, chief data scientist at Planview. "That understanding begins with customer data: We apply AI and machine-learning methods to each customer's current and historical operational data to predict task completion, provide early warning about tasks requiring course correction, and highlight disconnects between strategic goals and in-flight activities. Through Planview Copilot, generative AI is the icing on the cake, offering an easy-to-use, conversational gateway to these sophisticated AI/ML insights."