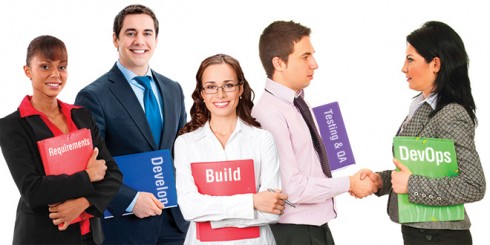 ALM has largely been about managing application development, but now it is shifting into the business planning space. The next generation of application life-cycle management tools will support both DevOps and the notion of managing an entire business project from idea to development to deployment. So if you're looking to upgrade your ALM tooling to remain competitive, know that your next ALM tool should help you manage this whole business process, according to six next-generation ALM solution providers interviewed for this article.
Also, in the near-term, the providers said that moving everybody onto a consolidated set of tools from one vendor probably won't be a reality in most shops. A lot of organizations already have ALM tools that they like, the providers pointed out. Because of this, the challenge in next-generation ALM will be about how to leverage the data that's there in all the ALM tools so that all the stakeholders in the entire process—from developers to QA to testing to management—can improve their collaboration and communication.
IBM Rational
IBM's next-generation ALM solution is IBM Rational Collaborative Lifecycle Management (CLM), which is made up of four tools: Requirements Composer, Design Manager, Team Concert, and Quality Manager. "They focus on that set of constituents in IT who want to define what the requirements are, and then manage that, meaning, how do you talk about that requirement and get it implemented by development?" said Randy Newell, director of  marketing at IBM Rational.
IBM refers to ALM as CLM, which it said is one element within a broader view of the software delivery life cycle. "When we look at the software delivery life cycle, we see a set of core capabilities today that are largely around software development," said Newell. "If we're really trying to help our clients take advantage of the opportunities around software development, then we need to look at it more holistically as a full life cycle."
To IBM, next-generation ALM isn't just about managing the application's life cycle, but rather it includes things such as business planning and understanding how requirements come in from a customer to begin with. "It's about how decisions around those requirements get captured and how you make investment decisions associated with your portfolio," said Newell. "And then it's about how you capture the metadata associated with that information and move it into the actual project."
From there, IBM sees next-generation ALM as understanding how to leverage that information into the overall project life cycle, whether you're doing software quality management or tying your testing back to requirements. "We're extending ALM further down the software delivery life cycle to ensure that we're incorporating testing, build and release management," said Newell. "That means extending into operations and the production area, inclusive of a feedback loop that tells you how your application in production is performing."
Some questions to ask your team are, according to Newell: Is your application meeting the SLAs associated with it? Does it meet the requirements for the customers? And are you making sure you're capturing that feedback so you can incorporate that into the next iteration of the application? "What we're referring to is DevOps," he said. "The DevOps life cycle for IBM is that full software delivery life cycle—from ideation or concept, all the way through to delivery of the application and the feedback loop. DevOps is that entire end-to-end life cycle. ALM, or, in our case, CLM, is one set of functionality or capability within that."
IBM said it links that to things like Unified Modeling Language, where some new capability is being brought out. "With this, you can actually model and tie those designs back to requirements and back to tests, using a Web-based interface," said Dave Myers, product manager of IBM Rational Team Concert for System z. "We tie that into Team Concert where it's all about agile planning or even waterfall-level planning, if you want to go back that far.