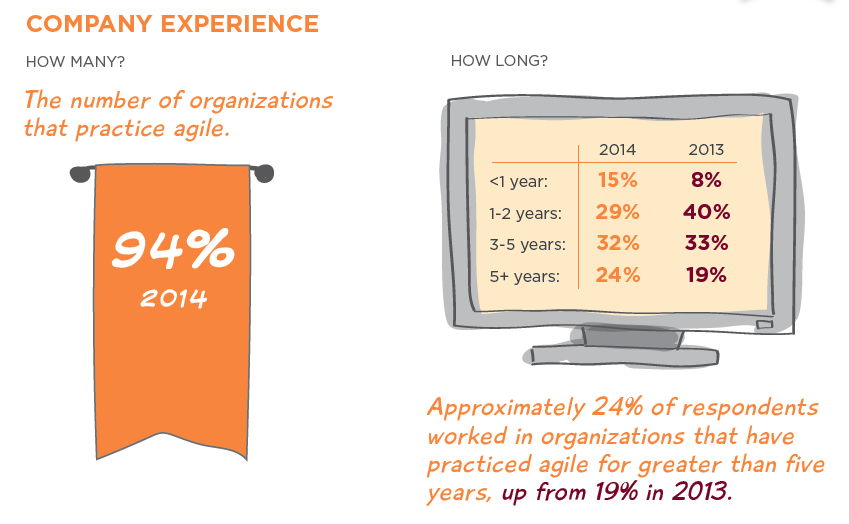 Agile is continuing to be a driving force behind software development. VersionOne recently released its results from the annual State of Agile survey and found that 94% of organizations are practicing agile.
"Agile is quickly becoming the de facto standard for software development, and five to 10 years from now it is going to go beyond the de facto standard and become the best practice and the only way to do software development," said Robert Holler, CEO of VersionOne.
The reason for agile's continuing momentum is due to three major benefits: accelerating product delivery, accommodating change, and driving productivity, according to Holler.
"Agile is a means to an end," he said. "It is not about agile; it is about delivering value to the business on a repeatable, reliable and rapid fashion."
Additional reasons for adopting agile, according to the report, include enhancing software quality and delivery predictability; improving business and IT alignment; improving project visibility; and reducing project risk. The benefits organizations are seeing after implementing agile are still the ability to manage changing priorities, increased team productivity, and improved project visibility.
Scrum still remains the top technique to practicing agile, with 56% of respondents reporting they use Scrum, followed by 10% using an Extreme Programming hybrid and 8% using multiple methodologies.
Fifty-three percent of respondents reported that the majority, if not all, of their agile projects have been successful, and according to Holler, the success comes from experience with the methodology.
"Success begets success," he said. "The organizations that are scaling agile now were the ones that were attempting to do it at either a project or divisional level about three or four years ago."