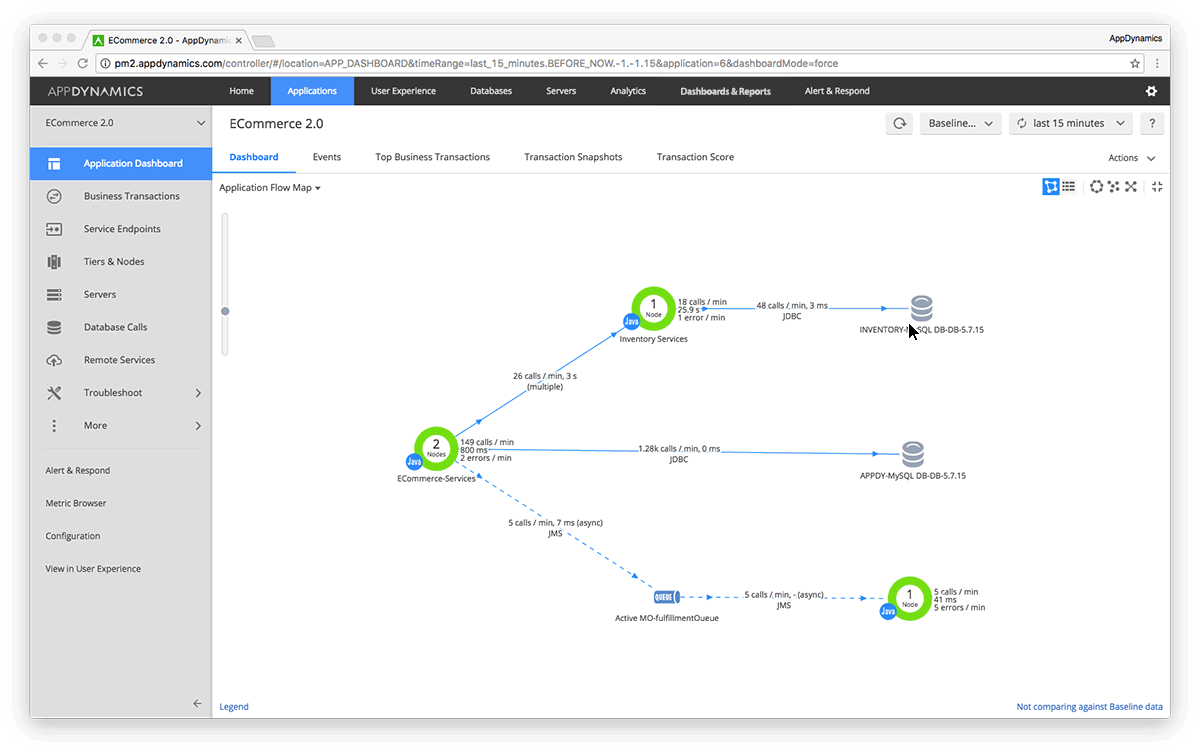 Businesses are learning that they need to work and release software faster in order to use agile infrastructures, but what's missing from their digital transformation is business leaders and IT teams sharing metrics throughout every phase. In order to connect the dots between the CIOs and IT/operations folks, AppDynamics released its new App iQ performance engine, called Business iQ, which aims to create a stronger line of communication.
According to Matthew Chotin, head of product marketing at AppDynamics, the company noticed that the relationship between business owners and IT needs to improve. That way everyone can share metrics and stay aligned in order to deliver experiences that customers expect.
(Related: A former Netflix architect joins AWS)
AppDynamics also noticed customers are asking themselves, "How did our most recent software release impact our users?" and "How did it compare to what we saw before the release?"
These questions are critical metrics that AppDynamics' Business iQ engine uses, letting enterprises realize what AppDynamics calls the Mean Time to Business Awareness (MTBA). This is a critical metric for enterprises that are agile, said Chotin, and they need to have a very fast MTBA in order to know if the they made were right, and to make decisions for what needs to be prioritized later, he said.
Chotin said that the role of IT has an opportunity to change, especially now that DevOps has increased the conversations between operations and developers. He said that operations and IT now need to have the same relationships with their business leaders, who are looking for simpler packaging and more capabilities from monitoring solutions so they can meet the demands of the businesses.
"For [IT/operations teams] to be able to present data in a meaningful way to the business is a conversation starter, and it allows them to elevate their role as an IT person," said Chotin.
Business iQ works for enterprises by monitoring the business in real time, and the engine combines application monitoring and business monitoring into a single platform that delivers a common framework for both IT teams and business owners, ultimately speeding up MTBA.
Business iQ also comes with a few capabilities that help businesses sift through the data and find the technical information of interest to them. One of the most visually interesting pieces of this engine is the new funnel analysis, said Chotin, which keeps KPIs related to bounce rate, conversion rate, and the amount of abandoners at each critical step.
Another capability of the Business iQ engine is user session monitoring, where teams can take a look at user sessions to determine business outcomes utilizing machine learning. Teams can also troubleshoot performance issues with new access to browser and mobile session data available from AppDynamics Real-User Monitoring.
Business iQ also joins the existing platform performance engines of the App iQ Platform, which is AppDynamics' unified suite of applications. Chotin said this platform has features that are exposed through the applications, and Business iQ adds on to that.