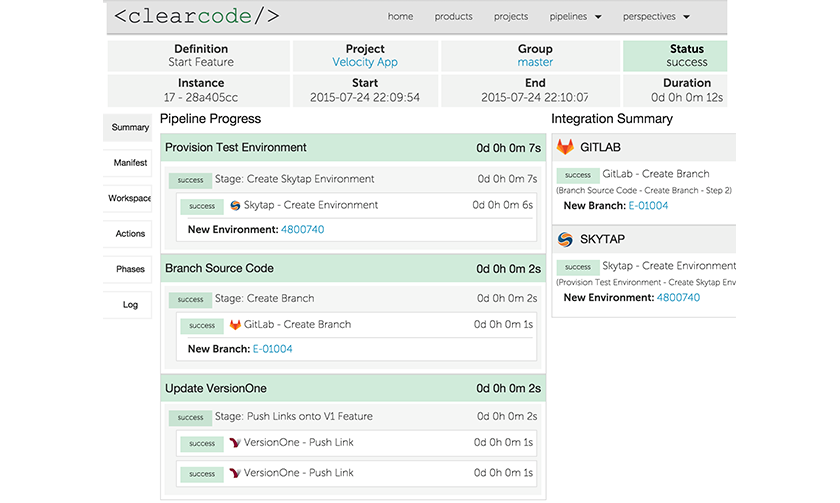 VersionOne wants to extend its agile life-cycle-management platform to include software delivery. To do so, the company has announced it is acquiring ClearCode Labs, a Continuous Delivery platform provider.
"I have for the last year or so felt that strategically it was in our best interest to extend the software delivery life cycle to encompass not only what we do, but the actual delivery of software from a developer's hand out to the customers hand," said Robert Holler, CEO of VersionOne. "This acquisition executes on that strategy to unify development and delivery."
(Related: Continuous Delivery adoption rates are rising)
VersionOne chose ClearCode Labs because it was a local emerging company that recently launched a product with capabilities and functionalities that are in tune with what enterprises need, according to Holler.
"ClearCode is in the Continuous Delivery and DevOps space. It is a product and it is a tool that helps automate, orchestrate and visualize the Continuous Delivery life cycle," he said.
VersionOne originally announced ClearCode integration into its 2015 Summer Release, and Holler said the acquisition was a natural extension of that integration.
"The stage was the type of the thing we were looking for where they were just kind of coming out of the market, we had a couple of shared customers, we saw the value, and they saw the value of the combined company and associated strategy, and we saw the value as well. Sometimes things just work out well," he said.
With ClearCode, VersionOne is gaining the ability to provide developers with a full picture of their entire software delivery pipeline, as well as a feedback loop into work items.
"Software development is not just about developing software; it is about delivering software out to the customers," said Holler. "ClearCode gives much better insight and visibility into where actual change is in the software development process."
As part of the acquisition, the ClearCode product will be renamed and be available as a separate product with tight integration into VersionOne's agile life-cycle-management platform.
"DevOps tools like source repositories, build servers, test and deployment automation have added speed and efficiency to the software delivery process," said Dennis Ehle, former CEO of ClearCode Labs, who will lead VersionOne's DevOps strategy. "However, these islands of automation can't provide the level of real-time visibility DevOps-focused organizations need to manage each stage of the delivery life cycle. Combining VersionOne's and ClearCode's solutions redefines software delivery and provides the industry's first truly end-to-end software delivery platform."