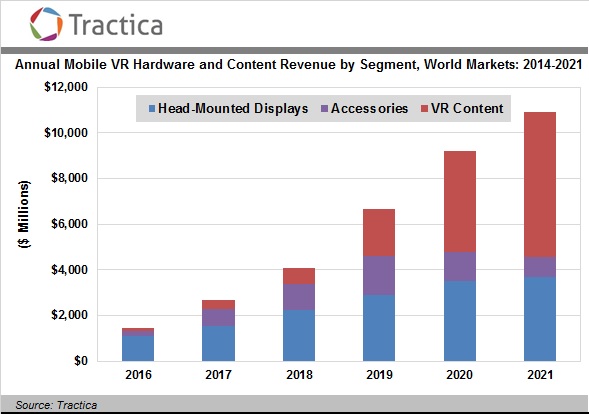 Mobile virtual reality is leading the virtual reality movement, according to a new report. Tractica, a market intelligence firm, recently conducted a study looking at how virtual reality will play out over the next couple of years, and found mobile VR headsets will represent more than 75% of the head-mounted display (HMD) shipments through 2021. In addition, more than 88% of VR HMDs sold in 2016 were mobile headsets.
The report finds by 2021, mobile VR HMDs, accessories and content revenue will amount to US$10.9 billion.
"Mobile VR has a tremendous amount of momentum, but there is much work still to be done," said Tractica principal analyst Mark Beccue. "VR is an extremely complex technology, and there are many obstacles to a frictionless, optimized user experience."
The report also looks at market issues, technical issues, top industry players, marketing sizing, and forecasts. The full report is available here.
AppDynamics files for proposed initial public offering
AppDynamics has filed a registration statement on Form S-1 with the U.S. Securities and Exchange Commission (SEC) for a proposed initial public offering of its common stock, according to the company in a statement.
"The number of shares to be offered and the price range for the offering have not yet been determined," read the statement. "AppDynamics has applied to list its common stock on The NASDAQ Global Select Market under the ticker symbol 'APPD.' "
In the proposed offering, Morgan Stanley, Goldman Sachs and J.P. Morgan are lead book-running managers, according to the statement. Barclays, UBS Investment Bank and Wells Fargo Securities are acting as joint book-running managers, and William Blair and JMP Securities are co-managers.
More information can be found here.
AGL Unified Code Base 3.0 released
The Automotive Grade Linux (AGL) project is making huge strides with its open-source infotainment platform. The project announced the AGL Unified Code Base (UCB) 3.0, the most advanced version to date. AGL is a collaborative project designed to develop an open platform for the connected car.
The latest version of that platform features a new home screen; new window manager; improved application framework; enhanced app launcher; a new SDK; reference applications; new integrations; Smart Device Link for mobile phone integration; and new hardware support.
"This is our third release of the AGL UCB in the past year," said Dan Cauchy, general manager of Automotive Grade Linux. "This unprecedented level of collaboration is a clear indication that the automotive industry is adopting an open-source development methodology that is resulting in faster innovation with more frequent software releases and new features. Sharing a single software platform across the industry decreases development time which enables automakers and suppliers to bring new products to market faster so they can stay ahead of new advances in mobile technology."