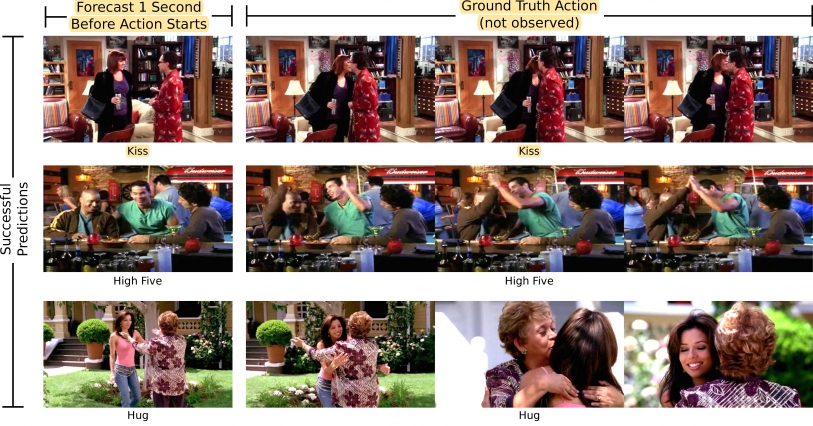 Machines that can better understand human interactions could open up new possibilities for robots, which is why researchers from MIT's Computer Science and Artificial Intelligence Laboratory (CSAIL) trained an algorithm that can anticipate human interactions more accurately than before.
The algorithm was trained on YouTube videos and TV shows like "The Office" and "Desperate Housewives." The system can predict whether individuals will hug, kiss, shake hands or high five. In another scenario, it can anticipate what object is likely to appear in a video five seconds later, according to MIT.
The researchers created an algorithm that can predict visual representations, which are like individual frames showing different versions of what a scene might look like. It uses techniques from deep learning. Training it took 600 hours of unlabeled video, and the team tested it on new videos that showed both actions and objects.
Even though the algorithms are not accurate enough for practical applications, the researchers believe that future versions can be used for robots or to develop better action plans for security cameras, which could alert emergency responders when someone has fallen or has been injured.
Samsung announces vision for 'Human Centered IoT'
Samsung Electronics vice chairman and CEO Oh-Hyun Kwon unveiled Samsung's new vision for human-centered IoT, which includes a strategy to spend US$1.2 billion over four years for U.S.-based IoT R&D and investments. It will be led by Samsung Strategy and Innovation Center, Samsung Global Innovation Center, and Samsung Research America.
Kwan called for his peers to start talking or thinking about the world of IoT differently, and to instead use a human-centered approach. This means embracing the possibilities of the technology and working together so companies can bring these benefits to society.
In his keynote, Kwan said that industry and policymakers have two principles to follow: being more open and being collaborative.
"If we want innovators everywhere to make use of IoT, we must make sure all tools are open to them," he said. "This means technologies that connect to each other, because we know that boundaries around technologies hold back innovation and scale."
Dell sells its software group
Technology-focused private equity firm Francisco Partners and hedge fund sponsor Elliott Management Corporation have announced they have signed a definitive agreement to acquire the Dell Software group. According to the organizations, this will help bolster their technology portfolios. Dell's software division includes security, system, information-management and data analytics solutions.
"Francisco Partners and Elliott Management's deep passion for technology and proven track records in nurturing and building software businesses will enable Dell Software's loyal base of employees to continue delivering innovation," said Tom Sweet, senior vice president and CFO of Dell. "We look forward to continuing to work closely with the Francisco Partners and Elliott Management teams to further enhance the already great relationships Dell Software has with its customers and partners."
New chip design from MIT
Researchers from MIT's Computer Science and Artificial Intelligence Laboratory (CSAIL) will present a new chip design called Swarm, which is designed to make parallel programs more efficient and easier to write.
The researchers compared Swarm versions of six common algorithms with their best existing parallel versions, which had been engineered by seasoned software developers, said MIT. The Swarm versions were between 3x and 18x as fast, but they generally required only one-tenth as much code or less. Swarm also achieved a 75x speedup on a program that computer scientists had so far failed to parallelize, according to MIT.
"What this architecture does, essentially, is to remove all sorts of explicit synchronization, to make parallel programming much easier," said Daniel Sanchez, assistant professor in MIT's Department of Electrical Engineering and Computer Science, who led the project. "There's an especially hard set of applications that have resisted parallelization for many, many years, and those are the kinds of applications we've focused on in this paper."
These applications involve the exploration of graphs, which consist of different nodes. Swarm also automatically backs out the results of lower-priority tasks, and it maintains the synchronization between cores accessing the same data that programmers previously had to worry about, said MIT.
The full paper on this new chip will be in the May/June issue of the Institute of Electrical and Electronics Engineers' journal Micro. More information on the chip can be found at MIT News.