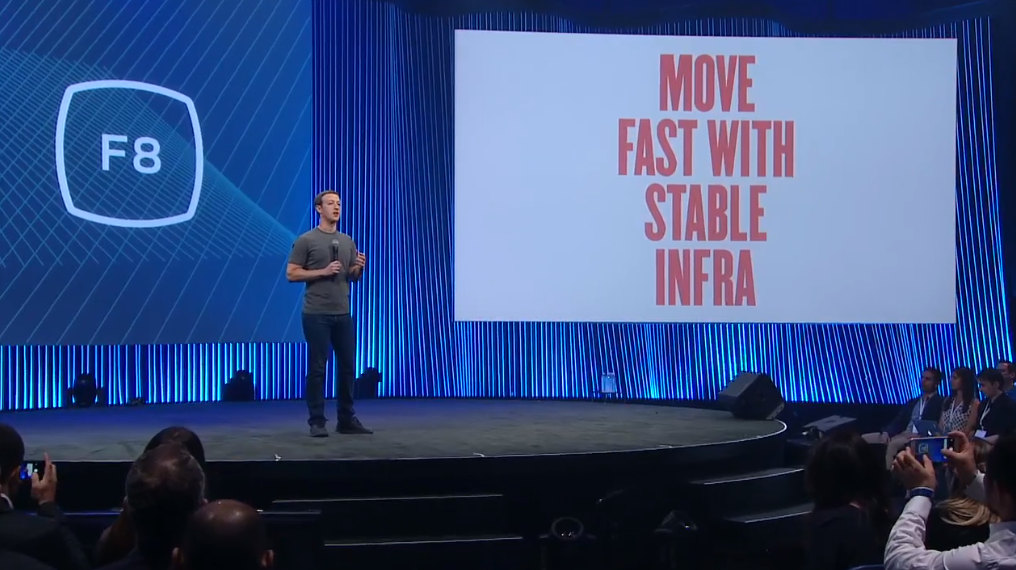 Facebook CEO Mark Zuckerberg announced a new developer platform for its Messenger application today during the keynote of the company's F8 developer conference.
Along with an SDK available today, Facebook's new Messenger Platform will enable developers to integrate apps and services directly inline in the Messenger composer. The Messenger applications demoed—apps providing GIFs, text animations, film-like special effects and embedded sports content from early partner ESPN—gave developers app name and icon attribution below each piece of shared Messenger content, along with a deep link to the Facebook app store if the user hasn't downloaded the particular.
In addition to existing Messenger capabilities such as Stickers, location sharing and voice calling, Facebook's vice president of messaging products David Marcus also demonstrated Messenger Platform capabilities in shopping, payments and interactions with businesses in a bid to "reintroduce personal back to shopping online and on mobile," he said.
The Businesses on Messenger platform, set for launch in the next several weeks, will allow businesses to establish direct lines of communication with users in the form of a natural Messenger thread. Users have the ability to ask questions, change their orders, and pay and receive inline receipts with post-purchase identity confirmation.
Analytics, monetization and the Internet of Things
F8's keynote also covered Facebook's efforts in app analytics and monetization for developers.
Deborah Liu, director of platform products at Facebook, announced the free release of Facebook Analytics for Apps, which provides developers and business with a single dashboard to track user flows, marketing campaigns and engagement within apps. The analytics offer cross-platform data as well, for developers to analyze app usage across desktop, mobile and tablets, and to break down their audiences by platform.
In terms of monetization, Liu announced Facebook's LiveRail mobile monetization platform for better ROI on app ads to all publishers and developers on the LiveRail network. She also debuted new versions of Facebook's Comments and Embedded Video social sharing plug-ins, along with a new Facebook Embedded Video Player, allowing sites to embed Facebook videos directly.
Finally, Parse CEO and cofounder Ilya Sukhar announced new features and SDKs for the cloud application platform, specifically targeted at the Internet of Things. Parse is owned by Facebook.
Sukhar revealed new SDKs for Arduino, Embedded C, Linux and real-time operating systems for developers to build IoT applications and more easily connect apps to hardware. He also announced a new Parse integration with the React library, as well as new cloud coding and security functionality, a new bug dashboard for developers to track bug fixes, and a commitment by Parse to fix more than 90% of small bugs within 30 days of being reported.
Other announcements during the keynote included News Feed support coming soon for spherical videos, and Share Sheet, a simplified cross-platform content-sharing interface for users. Facebook is also experimenting with live virtual reality spherical video, demonstrated at the Oculus Teleportation Station at F8.