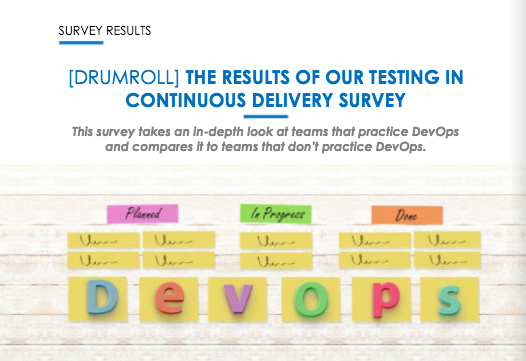 LogiGear announced new continuous delivery findings as part of its software industry survey series designed to assess the state of software testing. This is the second survey in the four-part series.
The survey on DevOps, and found most known pain points of transitioning to DevOps involves getting groups that don't naturally work well together to have the same goals, and financial commitments that require a great deal of planning, training and culture change. Other key findings included: about half of respondents suffer from environment or test data problems, more respondents believe DevOps and continuous delivery are the future, and a third of respondents that don't practice DevOps say their agile and Scrum practices are in good shape.
"DevOps can be a big disruptor, bringing with it a new manner of working, a new set of tools. What most teams want is a smooth running software development pipeline and with DevOps that can take time," said Michael Hackett, senior vice president for LogiGear. "In fact, at LogiGear we have stopped using the phrase DevOps, and now instead use continuous delivery. There are many reasons for this. First, Continuous Delivery eliminates the visualization of the big issues that come to mind when thinking of the term DevOps. Second, it seems Continuous Delivery is what software teams really need. Our survey brings insight into the big issues and roadblocks surrounding Continuous Delivery adoption."
appOrbit emerges with digital transformation solution
A new company wants to help accelerate the digital transformation. appOrbit is coming out of stealth mode today with the appOrbit application platform, a new solution to automate modeling, delivery, and management of enterprise software onto any modern infrastructure.
"We founded appOrbit with the vision to simplify the holistic management of applications regardless of whether three-tier or microservice, cloud-native or legacy enterprise, across any cloud," said Rahul Ravulur, co-founder and CEO, of appOrbit. "All applications should be on-demand, self-healing, scalable, composable, secure and completely portable to any environment, not the hard-to-update monoliths trapped on a single infrastructure they are today. Our early customer success is a testament to appOrbit's ability to improve the way organizations manage and modernize their applications."
Key features include: ability to easily define builds, a graphical user interface, automated security policies, data on demand, define user roles, and the ability to choose the infrastructure.
Comodo releases EDR solution
Comodo, a cybersecurity solution provider, announced its first free endpoint detection and response solution. The solution enables any sized organization to detect malware on endpoints, investigate, and respond to security incidents. It continuously monitors endpoints, provides advanced search capabilities, includes real-time visibility, and features a retrospective analysis on what has happened. 
"Comodo's innovative EDR presents you with an outstanding degree of visibility and 100 percent trusted verdicts for every file on the premises, ensuring that no malware can escape detection, even new, unknown attacks," says Mehmet Özer Metin, director of enterprise and cloud product development.  "When aggregated with Comodo's global threat intelligence and managed threat hunting services, information collected from this ultra-lightweight endpoint agent leads to imminent success in fighting with any form of malware and security incidents."
PDFfiller releases API 2.0
PDFfiller is updating is PDF platform with a new intuitive editor and signature manager. API 2.0 is the latest release to PDFfiller's PDF document solution that allows users to embed the ability to edit, host and sign documents into apps or websites.
"As long as businesses utilize HTML based apps, which is nearly every app in existence, businesses can embed PDFfiller directly into their applications," said Eugene Gorelik, director of engineering at PDFfiller. "PDFfiller provides a RESTful API for seamless integration with any cloud services via HTTPS protocol."