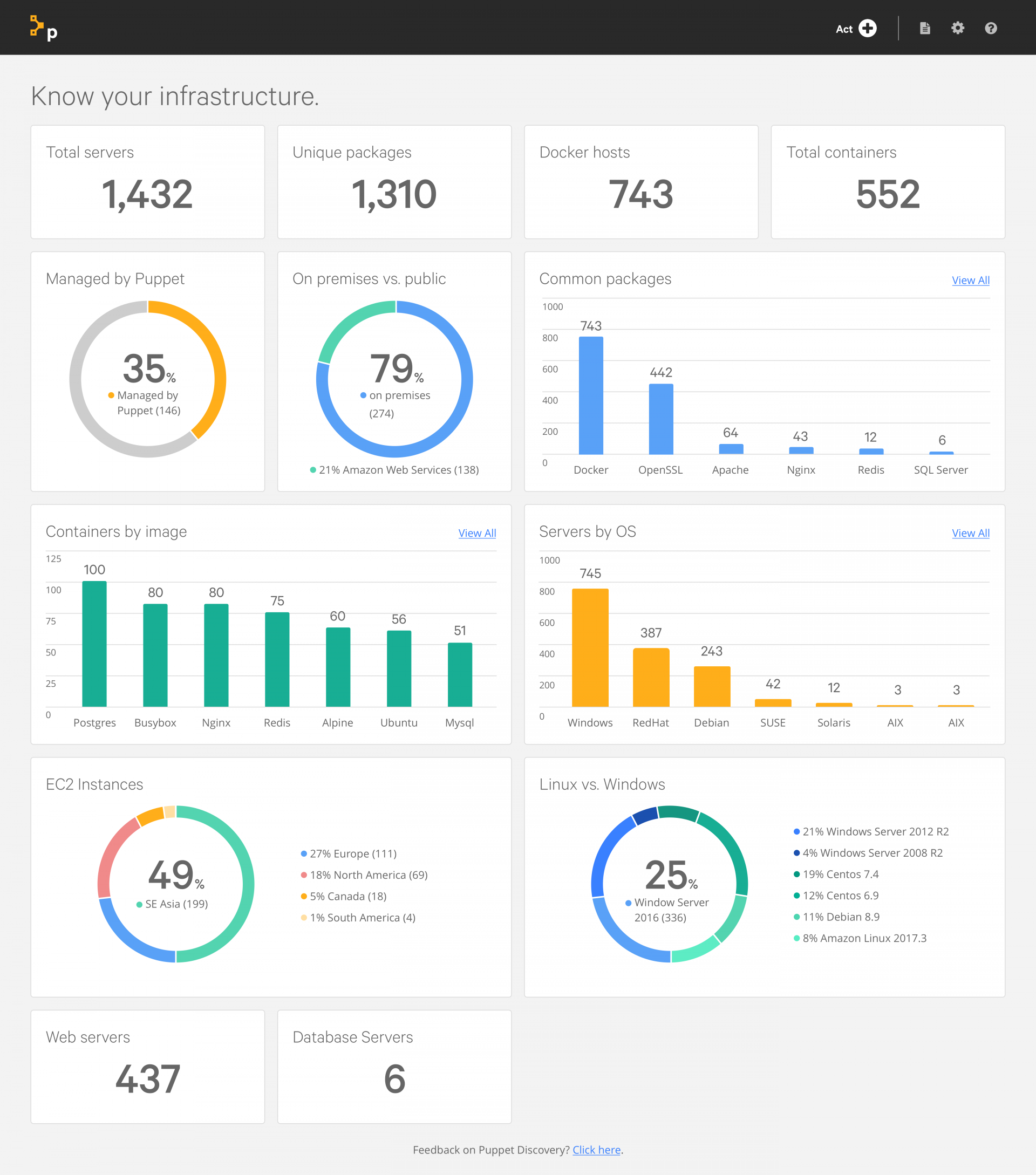 Puppet wants to take automation to a new level by making it more repeatable, scalable, and even more automatic. The company announced at PuppetConf 2017 it is expanding its product portfolio from one to six products in order to support this next phase of automation.
"We ​are ​entering ​a ​new ​era ​of ​automation. ​One ​where ​software ​makes ​it ​apparent ​where ​to
go ​next. ​One ​with ​insights ​about ​all ​of ​the ​critical ​resources ​running ​across ​your
estate—along ​with ​the ​ability ​to ​take ​action, ​and ​actually ​do ​something ​about ​those
insights," according to the company.
To reach this new era, the company unveiled Puppet Discovery, a new standalone solution that provides insight into hybrid infrastructure and makes it easier to control and manage. Discovery enables users to discover resources across their virtual machines, both on-premises and in the cloud, and inspect running containers. For instance, Puppet Discovery will be able to tell if an organization has seven different versions of SSL running, detect which ones are vulnerable and take action, according to Tim Zonca, vice president of marketing and business development at Puppet
"We believe in a year from now it will seem silly to just have discovery with no ability to take action or to just have management with no way to continually discover what else is going on across your estate. Both these approaches need to be tied together at the hip," he said.
The company also announced the release of Puppet Tasks: a new set of offerings designed to make it easier for users to approach automation and expand it across their infrastructure. Puppet Tasks is available in two ways: through Puppet Bolt and through Puppet Enterprise.
Puppet Bolt is an open-source, standalone task runner that allows users to quickly automate manual tasks without having to install any agents.
Puppet Enterprise Task Management is the big new capability available in Puppet Enterprise 2017.3. It provides the same benefits as Task Bolts, but with governance, scale, flexibility and team-oriented workflows, according to the company. It enables users to execute tasks across tens of thousands of nodes in order to scale their automation footprint faster.
"At ​Puppet, ​we're ​providing ​the ​tools ​to ​help ​our ​customers ​start ​simple, ​prove ​success ​and build ​from ​there ​to ​get ​more ​work ​done," ​said ​Omri ​Gazitt, ​chief ​product ​officer, ​Puppet. "Organizations ​that ​are ​just ​starting ​their ​automation ​journey ​can ​use ​Puppet ​Bolt​ ​to easily ​automate ​ad ​hoc, ​manual ​work, ​and ​then ​over ​time, ​bring ​it ​all ​under ​control. ​And our ​customers ​that ​are ​already ​using ​Puppet ​Enterprise ​can ​take ​advantage ​of ​the enterprise ​task ​management ​capability ​in ​our ​latest ​release ​to ​get ​added ​scale, ​governance and ​flexibility ​as ​they ​automate ​tasks ​across ​their ​estate ​of ​infrastructure ​and ​applications."
Additional Puppet Enterprise 2017.3 features included: improvements to the Package Inspector for browsing and searching for packages discovered on the nodes connected to Puppet Enterprise; enhancements to the core Puppet Platform; a new configuration data capability to improve code reusability and make it easier to configure nodes; and Japanese language support.
In addition, the company announced it is building on its acquisition of the continuous delivery platform Distelli with the introduction of three new products: Puppet Pipelines for Apps, Puppet Pipelines for Containers and Puppet Container Registry. Puppet Pipelines for Apps and Puppet Pipelines for Containers automate the delivery of applications through the CI and CD chain from initial build all the way through release automation. Puppet Container Registry is open source and provides a way for teams to host Docker images within their infrastructure and get a unified view of all their images stored in local and remote repositories.
"At Puppet, our heritage has really been steeped in helping deliver better software faster for the underlying infrastructure in middleware that applications require. Distelli has focused on the application workload through its continuous integration and continuous delivery pipeline. Together, we unify the two," said Zonca.
Other announcements from the conference include a new Splunk partnership, new partners for DevOps, cloud and container updates, and new additions to the company's leadership team.