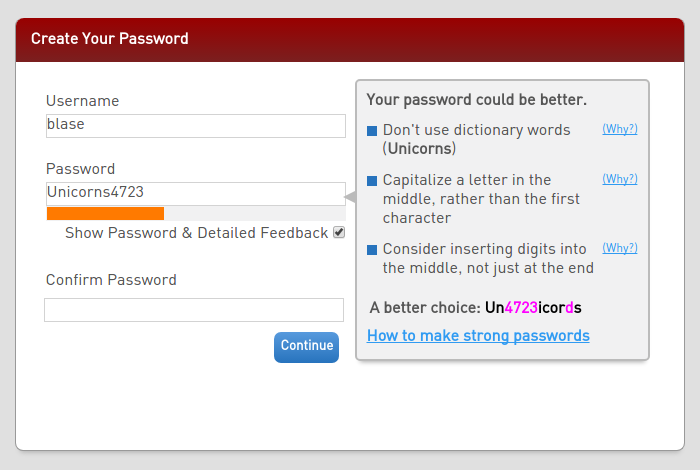 As an effort to help users create secure passwords, researchers from Carnegie Mellon University and the University of Chicago have developed a new solution that provides password advice. The new password meter not only tells users in real time whether or not their password is good, but it offers feedback and advice on how the password could be better.
"The key result is that providing the data-driven feedback actually makes a huge difference in security compared to just having a password labeled as weak or strong," said Blase Ur, assistant professor in the University of Chicago's Department of Computer Science. "Our new meter led users to create stronger passwords that were no harder to remember than passwords created without the feedback."
Progress Sitefinity 10 released
Progress has announced the latest update to its web content management system, Progress Sitefinity 10. The release includes new user authentication and security capabilities such as Sitefinity Site Shield, the ability to export and import site data, CDN support improvements, and Azure cloud support improvements.
"Our customers choose Progress Sitefinity CMS because it is easy-to-use, can scale and is affordable. The release of the Sitefinity 10 CMS bolsters those differentiators by adding out-of-the-box capabilities for user identity management for reduced time to market and total cost of ownership of sites," said Anton Hristov, director of product marketing for Progress Sitefinity. "Additional Sitefinity and Digital Experience Cloud features further the enablement of digital marketers to optimize the user experience and improve conversions across sites and devices without costly custom implementations."
BMC Software survey: Automation required to keep pace of innovation
BMC Software released new insights from a recent automation survey, finding that 73 percent of IT leaders believe businesses that aren't embracing IT automation will cease to exist in 10 years. Other respondents highlighted the demands for new sources of revenue, the competitive advantage, and other factors as pressures to compete digitally.
"IT teams must be able to manage the customer value chain in spite of decentralized usage of cloud services," said Gur Steif, president of digital business automation at BMC. "This is requiring a new level of IT automation to adapt to the challenges posed by increasingly diverse infrastructure, disparate data, and accelerated applications – the critical components of digital business."
Despite these challenges, IT leaders said they believe they are "empowered" to deliver the required IT innovation so they can drive their own digital transformations. Seventy-seven percent of respondents believe that businesses are doing enough to prepare for the automation workforce, according to the survey.
Thunderbird finds new home
The Mozilla Foundation has decided it will serve as the legal and fiscal home for the Thunderbird project, which is a free and open-source email, news, RSS and chat client developed by the Mozilla Foundation. However, the Thunderbird project will migrate off Mozilla Corporation infrastructure, which means the operational aspects of the project will be separated, writes Mozilla technical editor Philipp Kewisch.
According to Kewisch, the Thunderbird Council is "optimistic" about its future. In the meantime, Thunderbird will remain a Gecko-based application.
"The long term plan is to migrate our code to web technologies, but this will take time, staff, and planning. We are looking for highly skilled volunteer developers who can help us with this endeavor, to make sure the world continues to have a high-performance open-source secure email client it can rely upon," wrote Kewisch.
Dell Technologies Capital emerges
A new venture practice is coming out of stealth mode this week. Dell Technologies Capital is designed to help develop technology solutions and bring them to market. The practice has already participated in more than 70 early-stage startups and will focus on areas such as software-defined networking, management and orchestration, security, machine learning, artificial intelligence, Big Data, analytics, cloud, Internet of Things and DevOps.

"Capital is merely table stakes to set a startup company on the path to success. New companies are looking for active investment partners who provide breadth and depth of expertise and access to resources and scale," said Scott Darling, president of Dell Technologies Capital. "Dell Technologies Capital is comprised of a team of highly experienced investors with an extensive network of industry contacts to help our portfolio companies achieve escape velocity. We've been making these investments in stealth mode for a number of years and are accelerating our pace of investments."