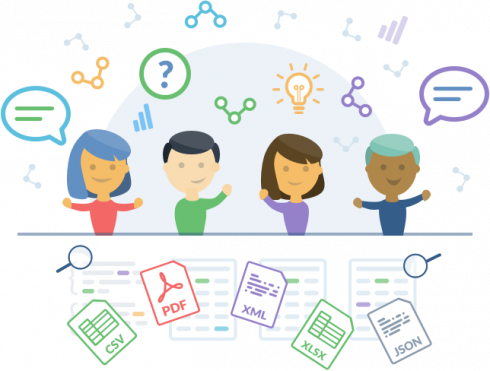 Data.world has announced the launch of a new data collaboration platform designed to help enterprises manage modern data teamwork. The new platform combines social media capabilities with data problem-solving features to provide a shared place for multiple stakeholders to work.
According to Jon Loyens, data.world co-founder and chief product officer, the company has already seen success in building and growing a collaborative data community, but was hearing from the data community that they needed this at a broader scale.
"There has been a barrier in the business when it comes to working with data. [The] engineering team hasn't had a programmatic way to approach and understand data, business teams have had no way to answer questions," Loyens said. "We want to bridge the gap between the technical and non-technical audience, and give them an interface, tools and the integration needed."

The platform is launching with enterprise data integration support for Google Data Studio, IBM SPSS, Microsoft Excel, Microsoft Power BI, MicroStrategy and Tableau. It also features integrations with data tools from R, Python, IFTTT, and CKAN.
"Data will only become a truly transformative force when everyone can contribute to—and benefit fully from—this resource," said data.world co-founder and CEO Brett Hurt. "The data.world platform brings more people and expertise to bear on solving complex problems, and replaces needless barriers with meaningful connections between people and data. We bring the power of people to data."

Other features include ways to ingest and share data with essential context, private data projects, ability to write and share queries, ability to capture discussions, notifications for new assets and insights, and drag-and-drop capabilities.
In addition, the company announced DJ Patil has joined data.world's board of advisors. Patil is known for coining the term data scientist, and becoming the United States' first chief data scientist under President Barack Obama.
"Data not only needs to be accessible, it needs to be usable by teams and individuals across disciplines, roles and skill sets," Patil said. "Data.world is doing the important work of breaking down the needless barriers that keep data and people disconnected."