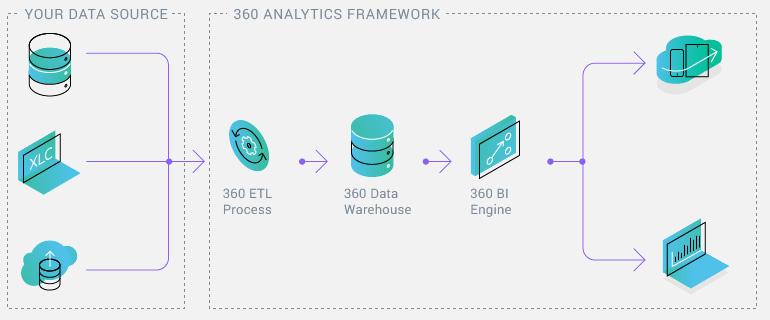 As data streams threaten to drown companies in too much information, the trend in business intelligence is now to house analytics smack in the middle of applications, where they can quickly and securely surface actionable information to developers, users and businesses.
With Progress OpenEdge Analytics360, Progress has a solution for both ISVs and IT departments that don't want to make the common mistake of purchasing a standalone BI solution that they can't implement, or endure the frustration of developing their own. For an understanding of how analytics can help businesses, we spoke with Progress Senior Principal Product Manager Mike Marriage, a data warehousing and BI expert in Atlanta, GA. Also in Atlanta, Barbara Ware is a Progress Senior Product Marketing Manager responsible for Progress Services, including business intelligence and data replication.
SD Times: Are most organizations even doing embedded analytics?
Marriage: A lot of people that I come across, if their analytics are not embedded, they address their analytics need in one of three ways: One, they have no analytics whatsoever. Two, they report off of Excel spreadsheets that they use to manually merge data they're exporting from various operational sources. Three, they have a standalone business intelligence system where they're taking information from those sources and keeping it outside of the application.
Ware: Also, people often confuse analytics with straight reporting — what's more, the report might be several days old and has been turned into a chart.  That's not analytics.
Marriage: Yes, data gets stale. Analytics is about making data actionable to the user. Many of these other systems work against stale information, which can lead to incorrect business decisions.
Embedded analytics is really a matter of taking those analytics and making them part of the transactional application.  By embedding analytics, you maintain context for the user and allow them to take immediate action where it makes sense, and when it needs to happen. To the end user, it's all transparent. We have the ability to give the analytics solution the same look and feel as the application — because you don't want it to be a completely different experience. A seamless user interface is very important.
What's a common misconception around embedded analytics?
Marriage: A lot of vendors claim they can embed within an app, so they take a chart or graph and embed it. That's just a report working against a snapshot of data. A real embedded analytics solution has to provide workflow integration and respond to events and triggers within the host application. Likewise, the interaction that the user is having with those embedded components should affect what happens in the parent app. Maybe clicking on that order number will open up the order page while adhering to any security rules that have been set. That's an example of complete integration.
Ware: We like to say we're breaking down the wall between transactions and analytics.  We leverage the Progress OpenEdge database to not only provide measurements and results based on extracted data, but also relevant operational data directly from the application for real-time decision making.
How do you make sure the results aren't just ignored? Do push notifications get it to the right set of eyeballs?
Marriage: Analytics solutions are only valuable if the user utilizes them. With an embedded solution, we have the capability to provide push notifications. We can automatically send out a text message or email alerting the user — maybe even sending that content to them — and guiding them back to the application.
Do you use Analytics360 yourselves to figure out what types of data are most valuable to your own customers?
Marriage: Yes, we're using our own analytics to analyze our solution as users work with it. We want to make sure the content is being utilized — and also that it's performing as well as it should be. Maybe some content is not used often today, but down the line it becomes more popular. We want to know when this happens so that we can optimize whatever content is now in demand.
What's another "gotcha" in analytics?
Marriage: It's important that when you look at your data to determine why an event has occurred, that you look at data blended from many sources. For example, working with one of our customers in manufacturing, if I look at defects occurring in certain components, I might find 20 instances of doorhandles coming loose and three instances of transmission slippage. To the untrained eye, the greater number requires my attention. But if I start lining that data up with cost information, I can see the transmission issue is more important.
Taking this example one step further, you can also factor in social media. Maybe for most of my customers their transmission slippage is being rectified at the dealer, but they're reporting the shoddy door handles negatively on social media. Too often, companies only respond to one data point. It's important for a company to obtain and review data points from all sources, and analyze the data from many different angles.
To what extent are people using public or external data, say mapping or weather, for context on analytics dashboards?
Marriage: If it has an API (application programming interface) or a web service, you can use it. We've worked with organizations that plot assets on a map to see where they are and how they're operating in real time, through satellite feeds.
It's not always against stored data; we can also take data streams, say in a manufacturing capacity, to show scrap, defects, quantity produced — and kick in with push notifications and alarms as monitored events are triggered.
Do you see big data usage coming into the mainstream?
Marriage: On the big data front, I believe we're starting to see greater adoption. Historically, we've only seen the largest of organizations embrace that. Setting up a Hadoop stack is a challenge — but within Analytics360, we have connectors to Hadoop, MongoDB, Cassandra, etc. So as companies embrace big data technologies, we're ready for them.
Also, the skill set for big data is not easy to find.
Marriage: One issue that our customers have is the lack of experienced resources to perform predictive analytics. We've realized there aren't a lot of people in the data science space. There's a shortage — and it's only going to get worse. So we've included functionality within Analytics360 that will push the information back into the hands of the more casual analytics users, applying formulas to data and forecasting how it might look in the future.
Are there any legal risks when it comes to analytics and have you seen any customers take them?
Marriage: The most important thing is the security of data, whether it's to comply with HIPAA (Health Insurance Portability and Accountability Act) or European privacy rules such as the GDPR. A lot of companies are simply moving data by exporting in clear text files, dropping it onto a server and importing into an analytics solution. Make sure data is encrypted when you transport it and store it. It's something we take very seriously.
Does embedding the analytics help or hurt user productivity?
Marriage: A study found that 84 percent of business users want access to analytics within the applications they're already using, but nearly 70 percent found themselves switching from their usual business apps to separate analytics tools to get the data or analysis needed. In their report, "Augmenting Intelligence with Embedded Analytics," Nucleus Research estimated this wastes up to two hours of productivity per worker per week. Think about that. In a year, that is about 100 hours of time saved per user. When you factor that over an entire organization, saving that time and cost is another huge benefit of embedded analytics.
Who are you primarily reaching with Analytics360?
Ware: The trend now is not just business intelligence within packaged apps; it's also in IT organizations and their internal apps.
We have two main audiences, direct and partner. Embedded analytics provides value to both. For our ISV partners, embedding business intelligence and data analytics into their applications offers new revenue streams — and keeps them from losing customers to other apps with this functionality. For companies that use the app internally, it increases users' participation and adoption rates and keeps users satisfied. Users aren't going to use an app when they don't understand the value they're gaining from it.
How does your solution compare to others on the market?
Ware: There are a lot of things that differentiate Analytics360: The fact that it comes with pre-built content makes it easier to implement and gives a faster return on investment. Also, if you don't have in-house business intelligence expertise, we have a services team that is well-versed in business analytics and can help you.
Another difference is the fact that it's built for our database and platform , Progress OpenEdge, so that it can extract operational content quicker and more accurately than any other product. Having an integrated extract, transform and load process increases the efficiency quite a bit.
Marriage: And we do have customers using it real-time — controlling manufacturing flows, or tracking assets moving on a map.
Business intelligence has gone from standalone services to becoming embedded in every application. What's next in its evolution?
Marriage: As the velocity and volume of data continue to increase, it's going to become more and more unmanageable. We're going to see a marriage of cognitive applications to analytics as these analytics solutions begin to make more decisions. It might be automatically adjusting prices to maximize profit margins, or making an adjustment to a manufacturing line, or predicting when there's going to be component failure. Our vision for Progress is that cognitive applications are coming next.