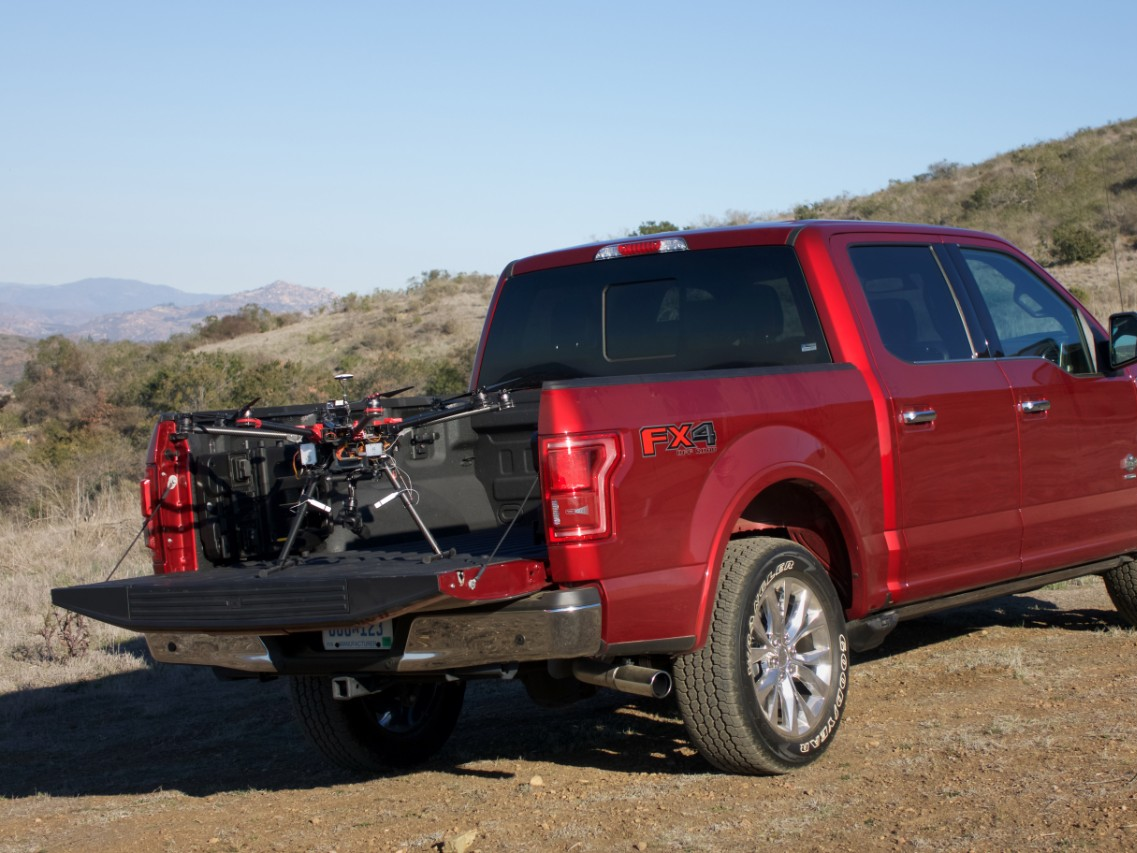 Drone maker DJI and automaker Ford are launching the 2016 Developer Challenge to help improve drone emergency services. The challenge will focus on drone-to-vehicle communication in order to provide a surveying system for the United Nations Development Programme to inspect inaccessible emergency zones.
Developers will have to utilize Ford SYNC AppLink or OpenXC, and DJI's SDK aerial platform (the Matrice 100) and the Zenmuse X3 camera. The challenge will center on a theoretical search-and-rescue mission where participants will be asked to build an application that would allow a drone to take off and land autonomously from a moving vehicle, collect data on survivor whereabouts, and transmit that information back to the vehicle. There will be a second round of the challenge where 15 teams will be given the Matrice 100 and X3 and have to provide progress reports. The final round will involve 10 teams who will have to use their app to perform a mock search-and-rescue mission with a moving Ford F-150 pickup truck.
Teams can apply to the competition from Jan. 10 to March 10. DJI will announce the 25 teams on March 19. The winning team will be awarded US$100,000.
In addition, DJI has announced a new SDK for Android and iOS that will be used in the competition.
"DJI's support for the startup and developer communities has not only meant creation of new UAV applications, but also new business opportunities for different industries, such as ground inspection, 3D mapping and inventory-tracking," said Robert Schlub, vice president of research and development at DJI. "The new mobile SDK will remove many pain points for developers. The new architecture will enable developers to identify problems quicker and create better applications for their customers."
The DJI SDK 3.0 features more control over a drone's onboard systems; full access to the SDK suite; a mission manager (with the ability to create custom missions with less coding); and bridge app and remote logger functionalities for iOS.
(Related: DJI announces new embedded computer for drone developers)
"Various industries are starting to realize how capable and powerful unmanned aerial vehicles can be," said Schlub. "As usage cases arise, there will be a growing need for applications. With our developer challenge and new SDK, DJI is doing its utmost to foster an environment that's conducive to development and creation of those applications."
More information about the challenge is available here.