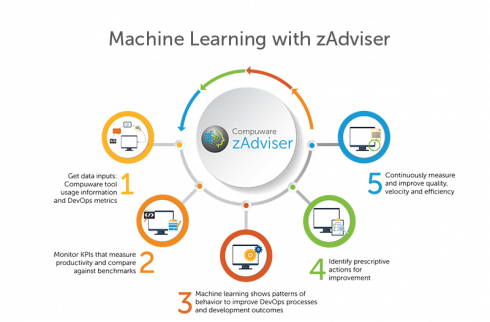 A majority of enterprises are running their mission-critical apps on the mainframe, but a lack of mainframe expertise is getting in the way of successful development and deployment. A recent study from Forrester revealed 64 percent of enterprises plan to run more than half their critical app solutions on the mainframe, but only 37 percent have been able to keep up with the mainframe workforce demand.
To ease the pain, Compuware is updating its zAdviser solution to give modern mainframe leaders the ability to track, measure and improve development velocity, quality and efficiency. zAdvisor utilizes artificial intelligence and machine learning to find connections between developer behaviors and key performance indicators as well as pinpoint DevOps trends and patterns.
"As mainframe workload increases—driven by modern analytics, blockchain and more mobile activity hitting the platform—customer-obsessed companies should seek to modernize application delivery and remove roadblocks to innovation," according to Forrester.
The latest release includes an improved dashboard interface built on Elastic's Elastic Cloud Service, advanced behavioral and operational metrics, near real-time streaming, and expanded AI/algorithmic correlation, according to the company. This will help enterprises determine high detect rates following and update and see if developers are maximizing the use of their specific DevOps tools, and enable them to act accordingly with new training or tools.
"Enterprises that have put off their mainframe modernization efforts must move quickly to bring their DevOps practices on the platform up to par if they want to stay competitive in a marketplace where continuous digital innovation has become table stakes," said Daniel Howard, senior researcher at Bloor Research. "Rich, fact-based insight into their current state—and into whatever might be impeding them from achieving their desired state—is essential for accelerated adoption of mainframe DevOps."
In addition, the company announced a new partnership with CollabNet VersionOne on enterprise DevOps automation in the mainframe. The new partnership will take a Value Stream Management (VSM) approach to mainframe software development activities. Compuware's ISPW DevOps-enabled source code management solution will integrate with CollabNet VersionOne's Continuum solution for tracking, automating and orchestrating software value streams.
"As large enterprises digitally transform to compete in today's fast-moving markets, the smart ones are aggressively transforming their mainframes away from siloed, waterfall-bound development, leveraging the Agile and DevOps best practices they've brought to their other platforms," said Jason Bloomberg, president of analyst firm Intellyx. "This announced partnership combines Compuware's modern take on mainframe tooling with the cutting-edge enterprise value stream management from CollabNet VersionOne."