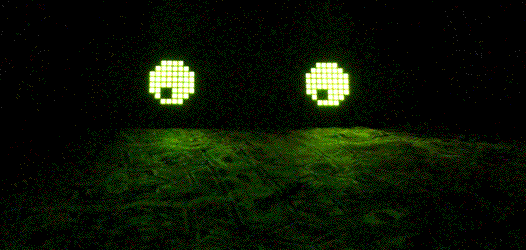 Tomorrow is Halloween, and to honor the holiday, we are featuring this creepy animation in our GitHub Project of the Week. Halloween eyes is a motion-sensitive animation that makes electronic eyes go from sweet and friendly to mean and spooky when you get closer.
"For Halloween this year, some friends did a sort of 'mini haunted house' in their garage," wrote its creator, a technology enthusiast known as Enigma. "The plan was to mix having a small party with handing out candy and to just have the whole tableau exude a sort of spooky ambience. It sure beat watching scary movies, putting them on pause every few minutes to answer the door. The under­ly­ing theme was to create a sort of Beetlejuice/Tim Burton speakeasy."
To add to the spooky ambience, Enigma decided to create the eyes. The eyes were stashed in the bushes and gave him and his friends an early warning sign when people were approaching.
To create the eyes, he used a design and code based off the Adafruit Roboface Arduino code and hardware. "The two eyes in the original code are functionally and electrically identical—in other words, they do not work independently, and both display the same eye graphic," he wrote.
The plans and source code are available on GitHub. You might still have some time to add this to your house for some fun trick or treating!
Top 5 trending GitHub projects of the week
#1. Aerial: A Mac screensaver that is based off the new Apple TV screensaver displays.
#2. Butter Desktop: The free components of Popcorn Time. Allows users to watch movies through torrent streaming.
#3. CSSgram: A CSS and Sass library of Instagram filters.
#4. FreeCodeCamp: A place where programmers can learn how to code for free. Featured in a previous GitHub Project of the Week.
#5. Mimic: A way to create chaos using (or abusing) Unicode.