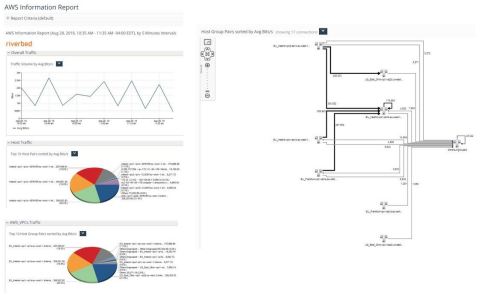 Application performance management (APM) is evolving beyond monitoring just the health and performance of an application and expanding to include the network. Network performance management (NPM) is meant to manage and monitor the performance of a computer network.
In the latest release of Riverbed's SteelCentral, it is targeting both APM and NPM with new capabilities. According to the company, these new capabilities will enable it to better address cloud-native apps and cloud-based networks.
"As cloud adoption has become ubiquitous, cloud deployments and the applications themselves have become increasingly complex and distributed. Ensuring performance of the end-user experience, apps, networks and cloud vendors themselves is a daunting challenge," said Mike Sargent, senior vice president and general manager for SteelCentral at Riverbed. "This latest release of Riverbed SteelCentral delivers rich visibility into both the application and network performance of hybrid and cloud environments, as well as the most comprehensive approach to truly measure and manage the digital experience. With our end user experience focus and supporting big data platform, Riverbed SteelCentral is delivering end-to-end performance monitoring at a scale unmatched by any other vendor."
Traditional approaches to monitoring in the cloud include service level agreements, cloud vendor tools, and point solution capabilities. However, this provides an incomplete picture, Riverbed explained. SteelCentral provides a solution that enables insights across cloud network traffic and interactions. It features an AppResponse Cloud for monitoring and troubleshooting network and app performance; new reporting capabilities to understand the traffic users generate; and the ability to collect both packet and flow information in the cloud.
For APM, SteelCentral features support for modern cloud-based architectures, as well as visibility into transactions, containers, and services running within Pivotal Application Services Kubernetes and Red Hat OpenShift.
"Public cloud continues to make inroads, with our research showing that 41% of enterprises are heavily using public cloud and 72% of those users are deploying in multi-cloud environments. So, it is of no surprise that 60% of organizations anticipate that they will invest in cloud services monitoring and visibility over the next two years," Rohit Mehra, vice president of network infrastructure at IDC. "The latest release of Riverbed SteelCentral offers companies a new and comprehensive approach for visibility into the application and network performance of hybrid and cloud environments. This is timely as we are seeing a rapid increase in the need for solutions that provide better cloud app performance and visibility."