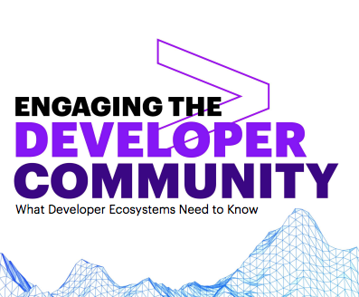 Developers rely on software platforms to deliver high-quality software, but find platform providers aren't doing a good enough job in helping them do so. Accenture's 2018 Developer Ecosystem Survey found a majority of developers believe there are gaps in a provider's ability to meet their needs.
"While the industry is aware of the critical importance of a healthy developer ecosystem, it needs to do a better job to engage, inspire, educate and support developers," said Robin Murdoch, a managing director in Accenture's Communications, Media & Technology group who leads its software and platform business. "This survey highlights some of the opportunities for companies to differentiate their platforms and better address developers' needs."
According to the report, developers look for five key things in a platform provider: education, accurate content, effective support, market relevance, and differentiation.
A majority of respondents stated they want to learn new skills or improve current skills within a developer ecosystem. "While it's intuitive that developers want to learn new skills, it was surprising to see how poorly developers perceive companies cater to this pressing need," according to the report. Seventy-one percent of developers want to see a platform offer formal training and certification as well as enhance educational components.
Nine out of 10 developers find technically accurate and up-to-date content the most important element in a developer ecosystem, but only 24 percent of respondents found providers are good at providing that content. "With developers screaming for accurate and up-to-date content, this is an area where ecosystems need to invest. That's not an easy feat – as soon as documentation goes up it becomes obsolete – but having a developer feedback loop in place can help considerably in keeping content vibrant," the report stated.
Following accurate content is a provider's ability to deliver timely knowledge and capable support, but only 23 percent find providers are providing that support. "Improving support begins with knowing one's developer audience, understanding the inherent nuances and tailoring support accordingly. Companies should consider customizing the range of support channels to specific segments, ensuring that service level agreements (SLAs) are published and met, focusing on near real-time support for critical developer activities and being authentic, open and honest when issues arise," according to the report.
When it comes to marketing positioning, developers want to see how integrated the platform provider is with other companies, and what type of reputation it has. In addition, developers want to see traditional marketing efforts from a provider such as event frequency, effectiveness, and swag. Twenty percent of developers find developer ecosystems are good at marketing capabilities to them.
Lastly, about half of the respondents found all developer ecosystems were the same when it came to usefulness, and 70 percent want to see a platform that truly differentiated from other ecosystems.  
"As the industry becomes more congested, barriers to entry continue to lower and developers can more easily move across platforms, there's little room for companies to assume the strength of their technology alone will attract and retain developers. Those responsible for developer ecosystems need to understand what developers think of their ecosystem, determine where their ecosystem capabilities stand relative to peers and define actions that will help them move their ecosystems toward differentiation and best-in-class," the report stated.
Other key findings of the report included: AWS is the most developer-friendly platform, Microsoft Azure keeps developers the most satisfied in terms of content, Android developers are the most satisfied in terms of support, Google Cloud Platform is considered the most innovative and iOS has the most credibility among hard-core developers.
In addition, respondents said that latest technology, more future-looking, more developer-friendly, and more career-building capabilities would motivate them to switch platform providers.