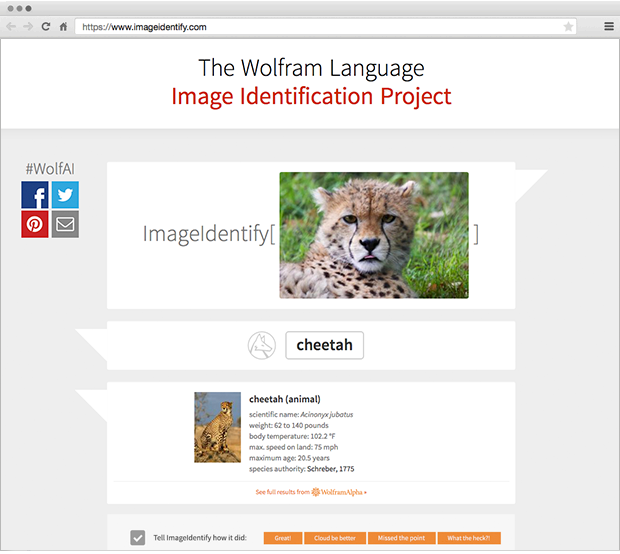 Stephen Wolfram has announced ImageIdentify, a new function of the Wolfram programming language enabling artificially intelligent image identification of any photo on the Web.
Wolfram announced the capability in a blog post along with the launch of the Wolfram Language Image Identification Project, which will open ImageIdentify to the public for instant image recognition of a photo from the Web or from a smartphone. According to Wolfram, the technology has been in the works for a long time, and combines elements of neural networks and machine learning.
"I've been waiting a long time for ImageIdentify," he wrote. "Nearly 40 years ago I read books with titles like 'The Computer and the Brain' that made it sound inevitable we'd someday achieve artificial intelligence—probably by emulating the electrical connections in a brain. And in 1980, buoyed by the success of my first computer language, I decided I should think about what it would take to achieve full-scale artificial intelligence."
Built.io announces cross-platform real-time integration for MBaaS platform
Enterprise Mobile Backend-as-a-Service (MBaaS) platform Built.io announced new capabilities that enable full support for cross-platform real-time integration for Web, mobile and Internet of Things applications.
Built.io previously enabled nearly real-time communication for Web applications and select mobile use cases via webhook support, but this upgrade introduces a scalable real-time platform specifically optimized for mobile and implementing the WebSocket protocol. Built.io applications can now access bidirectional, event-based communication, and support is available for developers through the updated Built.io SDK.
Red Hat survey: Back-end integration is the biggest mobile enterprise challenge
Back-end integration and security are the top challenges for mobile enterprise development, according to a new mobile trends survey conducted by Red Hat.
According to the survey of 112 global Red Hat enterprise customers and developers, conducted in March and April of 2015, respondents identified security (45%) and back-end integration (43%) as the most prevalent obstacles in mobile app development. More than half of organizations developing mobile apps are still dependent on do-it-yourself back-end integration solutions, the survey found.
Other mobile app development challenges the survey highlighted for enterprise included UI/UX design (35%), team collaboration (34%), and cost (24%). More details about the survey are available here.