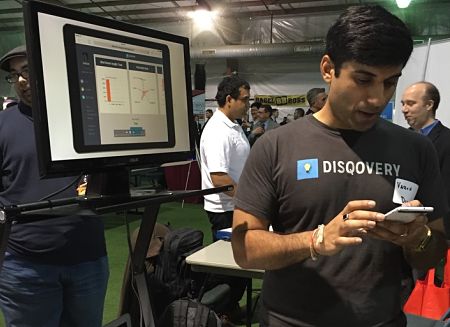 From drones to 3D printing, Web applications to design-based apps, there was a lot to see at the second Long Island Tech Day, held at the Mitchel Athletic Complex in Garden City, N.Y. Here's a brief rundown of the more interesting projects these startups are working on.
App that helps employees grow, one question at a time
A cloud-based app career development tool is here to help company's greatest asset: its people.
Disqovery, a 2-year-old startup that shares its name with its app, is available for Android and iOS. It helps employers learn more about their employees, but mostly it's a tool to help employees grow and learn more about themselves, according to founder Varun Mehta.
The app has a range of questions, from fun to casual. Things like "What drives you at work?" or "How was your day?" are all possible options. Based on your answers, Disqovery will make recommendations on how you can better yourself or your time spent at work. It could suggest training for a certain subject or even give you career advice developed by the team at Disqovery.
(Related: Software startup market is down from 2009)
It uses an analysis engine to send anonymous and collective reports to the employer or manager, who can then review the data and make plans to improve the company. Why would employees want to take these silly surveys seriously? It only takes about 30 seconds to complete a question, and it will help the employee discover things about him or herself that he or she might not have known before, according to Mehta.
Did you wash your hands? That is the question behind CloudClean
Ever think about how many chefs or wait staff forget to wash their hands when they're handling your food? With the wireless technology from 4-year-old startup CloudClean, employees will find it harder to forget.
Steve Russak, COO of CloudClean, said that, normally, companies just rely on the honor system and signs in the washroom, yet employees still fail to keep their hands clean. The CloudClean Hand Wash Compliance Technology instantly alerts an employee who did not wash their hands.