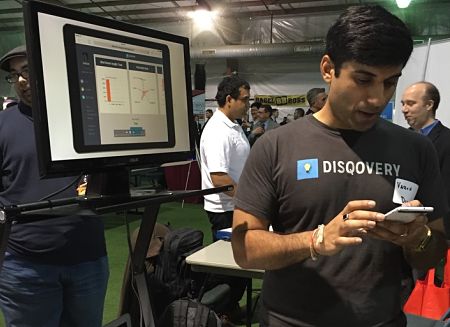 From drones to 3D printing, Web applications to design-based apps, there was a lot to see at the second Long Island Tech Day, held at the Mitchel Athletic Complex in Garden City, N.Y. Here's a brief rundown of the more interesting projects these startups are working on.
App that helps employees grow, one question at a time
A cloud-based app career development tool is here to help company's greatest asset: its people.
Disqovery, a 2-year-old startup that shares its name with its app, is available for Android and iOS. It helps employers learn more about their employees, but mostly it's a tool to help employees grow and learn more about themselves, according to founder Varun Mehta.
The app has a range of questions, from fun to casual. Things like "What drives you at work?" or "How was your day?" are all possible options. Based on your answers, Disqovery will make recommendations on how you can better yourself or your time spent at work. It could suggest training for a certain subject or even give you career advice developed by the team at Disqovery.
(Related: Software startup market is down from 2009)
It uses an analysis engine to send anonymous and collective reports to the employer or manager, who can then review the data and make plans to improve the company. Why would employees want to take these silly surveys seriously? It only takes about 30 seconds to complete a question, and it will help the employee discover things about him or herself that he or she might not have known before, according to Mehta.
Did you wash your hands? That is the question behind CloudClean
Ever think about how many chefs or wait staff forget to wash their hands when they're handling your food? With the wireless technology from 4-year-old startup CloudClean, employees will find it harder to forget.
Steve Russak, COO of CloudClean, said that, normally, companies just rely on the honor system and signs in the washroom, yet employees still fail to keep their hands clean. The CloudClean Hand Wash Compliance Technology instantly alerts an employee who did not wash their hands.
How CloudClean works: An employee wears a badge that receives signals from the wireless network, which will alert the employee when they have left without washing their hands. It does so by recognizing that the employee didn't use the soap dispenser. The system knows when the person enters and exits the bathroom, and if the employee does not self-correct after it is alerted the first time, it then alerts a CloudClean Dashboard, where other employees can see that the worker did not wash his hands. If the person really forgets, it alerts the manager.
Among the big names that use CloudClean are Popeyes and Chicago-based food service provider Gourmet Gorilla.
Student startup to help expand peer-to-peer learning
A computer science senior at Stony Brook University, James O'Sullivan, founded and developed a peer-to-peer learning Web application that helps college students become teachers. Each semester, students get to contribute to their class and help classmates by posting videos, quizzes, questions, and even communicate directly with a professor.
Named Sullstice, the application has a feed similar to Facebook where users have the option to contribute, ask questions, and get the help they need to prepare for quizzes and tests. A professor will monitor and accept those who try to join (as a way to keep the conversations relevant). There's also a leaderboard that shows who contributed the most, along with an upvote feature similar to Reddit. In the future, students and professors will be able to sort content by highest vote count and most recent.
O'Sullivan developed Sullstice from his own classroom experience. He said in his large classes, some students didn't show up, some wouldn't pay attention, and the dynamic of the classroom was always changing. He wanted to think of a way to get students to contribute to classroom-like conversations, even when the blackboard has been erased for the day.
O'Sullivan's software is currently being used at Fulton-Montgomery Community College and Stony Brook University. 850 students and seven professors are in the beta. He said he hopes that Sullstice can be the "change you want to see in the classroom."
Tutoring platform is busy going to beta
There's a tutoring platform whose CEO, Vito Monti, considers to be the "Uber of tutoring." Tootabee is a marketplace platform that matches those in need of a tutor with the best possible match. Parents can evaluate and communicate with tutors they want for free.
Monti said that Tootabee is different because it focuses on the relationship between tutor and teacher, which he considered a vehicle that leads to learning. As a teacher at South Huntington School himself, he and his wife Kimberly said they want to build a technology that brings those teachers and students together to restore the human connection that an advanced technological society needs.
Their platform uses API integration and Checkr to run background checks on tutors. On Nov. 18, the platform goes into beta after two-and-a-half years of research and development.