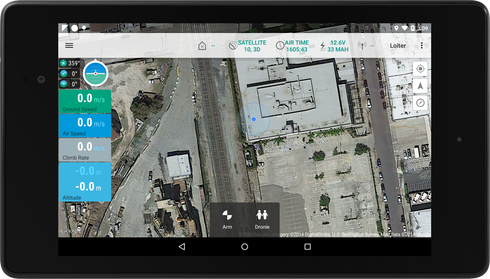 Drone development has made huge advances recently, but once the drones get off the ground, users need to be able to fly, control and track them. Drone maker 3D Robotics has announced it has open-sourced its Tower flight control app for drones. The application not only provides users with a feature-rich flight experience, but the open programming interface also allows developers to create or customize features.
"3D Robotics is a big believer in imaginative uses of drones for business and pleasure, as well as in ways that benefit society," said Colin Guinn, chief revenue officer of 3D Robotics. "By opening up our Tower programming interface to the public, we're giving enthusiasts and entrepreneurs the ability to impact those uses in a very positive manner. We're excited to see how people use their talents to improve and innovate on Tower."
According to the company, Tower is well suited for users ranging from first-time pilots to experts, and provides transmitter-free operation of 3D Robotics-powered drones from any Android smartphone or tablet.
Users can use Tower to:
fly drones in smooth curves with spline waypoints
orbit an object while keeping its camera on the object with circle waypoints
center the drone's camera on a subject regardless of flight path with Region of Interest
automatically generate a flight pattern that covers a region on a map
keep the drone's camera centered on a user and follow that user's movement with 3PV Follow Me feature
create 3D scans of large structures with its Automated Building Mapper feature
take selfies with the Dronie function.
In addition, the application features a Mission Editor for insertion and reordering of elements, and integration with Droneshare to connect with other drone pilots.
More information is available here.