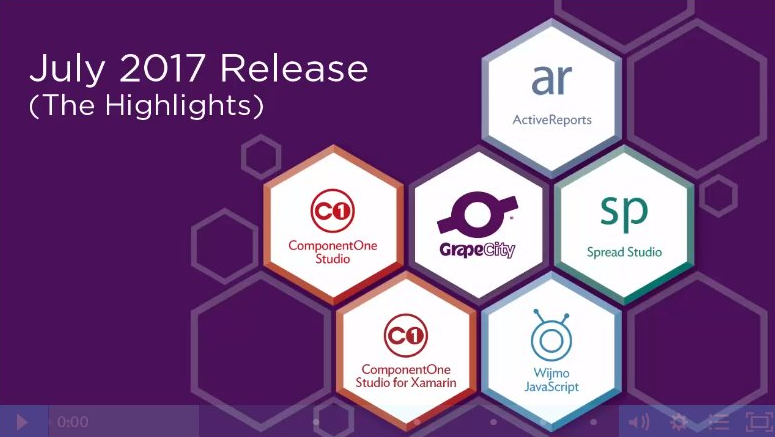 GrapeCity is announcing its second major 2017 software release this week with JavaScript, ActiveReports and .NET updates. One of the biggest features of this release is the company's newest product line: ComponentOne Xamarin Enterprise.
The Xamarin solution replaces the previous Xuni solution, a cross-platform native mobile control suite for Xamarin.
"In order to ensure you get the fastest, most flexible controls available, GrapeCity's native mobile development team has directed its focus to developing the best Xamarin controls on the market. This new architecture adds UWP support, provides support for Xamarin's visual designers, and brings up to twice the performance of the previous version of Xuni," Kelley Ricker, product manager of Xuni, wrote in a post.
In addition, it provides FlexChart, FlexPie, FlexGrid, Input, Gauge, Calendar, and CollectionView controls. Current Xuni licenses holders will be granted licenses to the new product that best matches their current license. For instance, Xuni Enterprise and Xuni Xamarin will get ComponentOne Studio for Xamarin while Xuni Android will get the Xamarin.Android edition.
"We have always ensured that our customers get the fastest, most flexible controls available," said Jody Handley, Product Marketing Manager at GrapeCity. "Refocusing Xuni's already existing native mobile capabilities to Xamarin provides developers with the best native mobile reach for their applications."
For .NET, the latest release features PDF DoucmentSource for WinForms, UWP and WPF. This new solution provides a PDF component that reads, prints and exports PDF documents. For JavaScript, Wijmo has been updated to support Angular 4 and TypeScript 2.2. And ActiveReports features a new web designer for its server. A major annual release of ActiveReports is scheduled for November.
Other features include: data visualization enhancements, WinForm improvements, and UWP and WPF additions.

More details are available here.