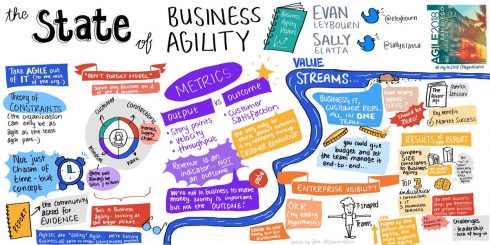 Despite Agile's wide adoption, businesses are still struggling to adopt the mindset, structure and practice of the software development approach. Agile Transformation and the Business Agility Institute announced the first Business Agility Report at the Agile 2018 conference in San Diego this week, which found a majority of organizations still rate their business agility maturity as low, and are struggling with culture and processes.  However, despite the challenges, businesses noted they are experiencing tangible benefits from business agility such as speed to market, customer satisfaction, collaboration, and increased employee and customer satisfaction.
The report looked at business agility fluency to understand what organizations are doing and how they are performing, top competencies, lowest competencies, how company size correlates to business agility, and perception of business agility.
Other announcements from the conference included:
Scrum.org newest Scrum training course
Scrum.org announced the Professional Scrum Master II training course at the conference, its newest and more advanced Scrum Master Course. The 2-day course is designed for Scrum Master with at least a year of experience and the understanding how of to use Scrum for value, quality, productivity and user satisfaction.
The course is meant to improve knowledge, skill and ability to support teams with new experiences and capabilities.
"Taking on the role of the Scrum Master is a challenging one," said Ken Schwaber, Scrum co-creator and Scrum.org founder. "We have spent years training people to become better Scrum Masters, and now it's time to take what we've learned to help them continue improving. We are always inspecting and adapting with Scrum, and Scrum Masters do the same, gaining new techniques, insights and ideas. There is always room to grow as both individuals and Scrum Masters, and it is part of our mission to help them do so successfully."
CollabNet VersionOne announced 13th annual State of Agile Survey
CollabNet VersionOne is officially opening up withs State of Agile survey, designed to gain insight on agile software development and adoption. The survey will be open until December 1, 2018.
"Technology professionals world round look to the State of Agile Report each year for insights and perspective on software development, methodologies and practices surrounding agile as well as understanding of the challenges faced by organizations," said Flint Brenton, CEO at CollabNet VersionOne. "This resource adds incredible value to the industry. We invite individuals to share their experiences and by doing so, help contribute to the software development community."
The Scrum@Scale Guide
Scrum@Scale showcased its guide to transforming every aspect of an organization. Scrum@Scale is a new framework that is meant to scale the core of the originally Scrum framework and extend it to tens of teams, hundreds of teams to even thousands of teams.
"Scrum@Scale is really designed for business agility. It is designed to go across the entire organization. It is the way the venture group I work with builds scaling into their business and into every investment that they work in," Jeff Sutherland, co-creator of Scrum, in a video.
Zoho highlights Zoho Sprints
Zoho revealed the latest addition to its platform, Zoho Sprints. This addition is meant to be a agile project management tool for Scrum teams to plan work, track progress and build products.
Features include a backlog, board, epics, timesheets, dashboard, reports, meetings and feed. "Create new sprints and backlog items with a fluid drag-and-drop planning center. Break down the nuances of each user story through epics, estimation points, priority listing, and user assignments. Set durations and timely reminders make releasing after every sprint that much easier," the company wrote on its website.