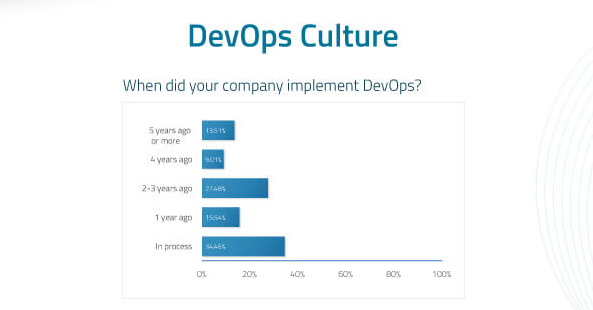 While companies have grasped that DevOps leads to an increase in innovation, DevOps adoption and implementation still remains a challenge for many. Logz.io, an AI-powered log analytics company, released its DevOps Pulse 2017 survey in time for today's SysAdmin Day, highlighting some of the challenges and benefits to DevOps.
The DevOps Pulse report this year was based on data from a survey of 700 companies, with an additional section on DevOps culture because, according to Logz.io, it's one topic that wasn't researched enough.
Despite DevOps being well-known phenomenon in the software development space, there are still 50 percent of companies that are in the process of implementing DevOps or they just implemented it within the past year, according to Logz.io's survey results.
This could be because companies are still struggling when it comes to establishing DevOps within their organization. The top three challenges companies cited were shifting company incentives to change behaviors, maintaining open communication and transparency, and having flexible processes.
"These three actions — among others — are often tied to the fact that it is very hard to escape the typical silos that develop within companies and teams," reads an excerpt from the survey. "Everyone and every team has a different way of working and a different set of priorities to address, and goals to meet."
However, the top problem isn't with communication or silos; it's DevOps implementation. The top two reported problems from Logz.io's survey include lack of time and lack of expertise.
Lack of time is also impacting how IT leaders and developers deal with pressure and stress at work. According to the survey, on the day to day, about 40 percent of respondents said they feel moderately under pressure at work, with less than 10 percent feeling extremely pressured. But, 70 percent did report they could see themselves burning out at some point.
Infrastructure in the public cloud
In addition to looking at company culture and DevOps implementation, one interesting piece from the survey looked at the increasing dominance of the "Big Three" public cloud companies: AWS, Azure and the Google Cloud platform.
In the DevOps Pulse 2016, 28 percent stated that they used another platform over the "Big Three." This year, the number fell to 13 percent while the percentages of people using companies like AWS increased. More people in general are using AWS, Azure, or Google Cloud Platform, and AWS is still leading the pack.
In the beginning, the rush to the cloud was to cut costs, but the cloud is still expensive for companies as underlying infrastructures grow with the business. Businesses, in the survey, mentioned popular cost management platforms like Cloud Native, Cloud Health, and other AWS or custom built in tools. The reason? Cost management helps to understand cloud usage and optimize environments, according to the survey (about 70 percent said their goals with cost management are around optimizing the environment).
The full DevOps Pulse 2017 report can be found here.