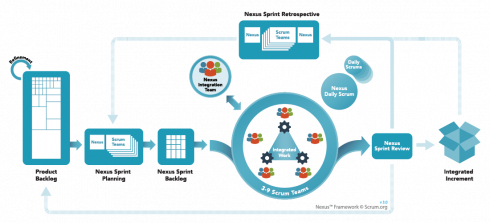 Scrum.org is announcing new updates to the Nexus Guide, the body of knowledge for using its Nexus framework to scale Scrum. The new updates focus on adding clarification as well as asserting the importance of transparency at scale.
Scrum.org is designed to improve the profession of software delivery through training, certification assessments and community as it reduces the work and work products to make it dependable. Through the Scrum.org community and founder and co-creator Ken Schwaber, Nexus was created with a mission to easily develop and sustain scaled product and software development initiatives using Scrum. Since founding Scrum.org in 2009, Schwaber had a mission to improve the profession of software development. He wanted to reduce the gaps so the work and work products are dependable as Nexus Guide embodies this concept.
"Nexus enables multiple Scrum Teams to work together to deliver an integrated increment one or more times per Sprint, because most scaled efforts delay integration. And that's what fails," said Schwaber. "It takes what's already in place and successful in a team's implementation of Scrum and extends it. Nexus is essentially just Scrum. It can fit the needs of pre-existing Scrum Teams and enable them to work better together, making it the preferred option for scaling Scrum."
Over the years, Scrum.org has found while organizations have successfully learned how to use Nexus, they also found difficulties. As a result, Scrum.org decided to revise the guide. The updates were determined through the Scrum community feedback via the Scrum Guide User Voice website, the Scrum.org community and its professional Scrum trainers.
These updates include making the Nexus Integration Team more comprehensible. The purpose of its role is to proclaim the importance of transparency at scale for integration and defining when "Done" is at scale as it extends the worldwide reach of Nexus. It will now include a Creative Commons license that will allow teams and organizations to reuse the guide's content and broaden its reach.
"We are excited to see the changes in Nexus," said Lee Cunningham, senior director of enterprise agile strategy at CollabNet. "Organizations using the Nexus framework will enjoy the full support of VersionOne Lifecycle, which provides unmatched visibility and collaboration at scale."
More information about the Nexus Guide will be available here.
The Nexus Guide improvements follows new updates Schwaber and other Scrum co-creator Jeff Sutherland made to the Scrum Guide in November last year.