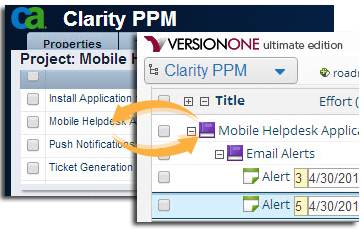 VersionOne recently announced its 2014 Fall Release designed to simplify scaling agile by aligning agile and traditional project teams.
"A key to successful enterprise-level agile is breaking down information silos within organizations in order to accelerate decision-making and improve business and IT alignment," said Robert Holler, CEO of VersionOne. "Our latest release takes a significant step forward in delivering a holistic solution for making better investment decisions and aligning team-level execution to business strategy."
The new capabilities added to the 2014 Fall Release aim to help portfolio managers understand and manage feature-level agile project activity.
Features include:
• CA PPM VersionOne partnership: The recently announced partnership with CA Technologies delivers an integrated solution that coordinates agile ALM and PPM to deliver a complete picture of planning, funding and execution across all development teams.
• Advanced forecasting: This new feature offers predictive project modeling through the Monte Carlo Simulation in order to predict project completion dates at various confidence levels.
• Portfolio-level reporting: New portfolio-level process and burn-up metrics enable users to monitor feature progress against plan, understand root causes of work and gain insight on whether or not products will ship on time and on budget. The new reporting capabilities align with version 3.0 of the Scaled Agile Framework.
• Epic Dependency: VersionOne has made it easier for users to visualize high-level relationships across projects and teams in order to understand change and its impact.
Other features include automatic status transitions, custom field visibility and improved interactivity in its project dashboard reports. In addition, the company announced its poker-style mobile estimation game, Estimably, which was announced in July, is now generally available, and its onsite product training has been updated to provide shorter and more focused courses.
More information about the Fall 2014 Release is available here.