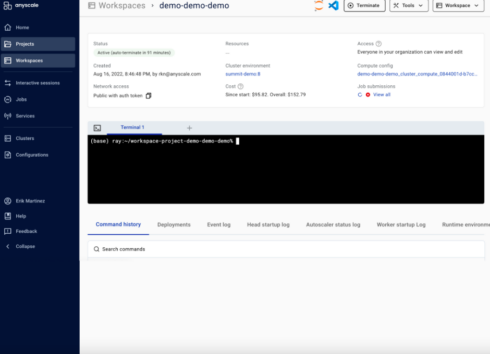 Anyscale, the company behind the open source unified compute framework for machine learning called Ray, has announced new updates to the Anyscale Platform. The platform enables companies to build, deploy, and manage machine learning and Python applications. 
One new addition is Anyscale Workspaces, which provides a unified development environment for building machine learning workloads. Developers can use tools they are already familiar with, such as VS Code or Jupyter, and still have the scale and flexibility of the cloud. 
This release also improves cluster setup times. According to Anyscale, they have achieved startup times that are under two minutes, which is five times faster than Ray can do. 
Customers will now also be able to deploy their own custom Docker images as Anyscale cluster environments. They can then use their CI/CD pipelines to manage those workloads, including launching Anyscale Workspaces, jobs, and services. 
The platform also now offers a native way for scheduling jobs, in addition to integrating with orchestration tools like Airflow and Prefect. It provides features like auto-scaling, alerting, and auto-retries. 
"We are thrilled to see customers experience the benefits of the Anyscale Platform, which make Ray even more powerful and simple to use," said Robert Nishihara, CEO and co-founder of Anyscale. "Our customers have gained tremendous value from Anyscale, and I can confidently say that we've just touched the tip of the iceberg on making Ray even more impactful for developers and organizations who need to accelerate AI development and experimentation and to remove the challenge of AI scaling."