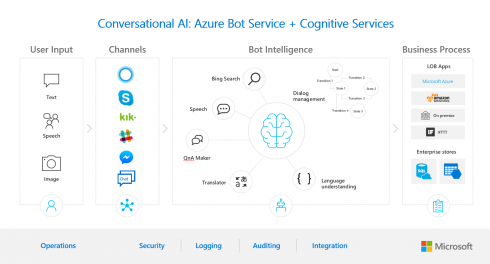 Microsoft has announced two new development tools designed to advance conversational artificial intelligence experiences. Microsoft Azure Bot Service and Microsoft Cognitive Services Language Understanding (LUIS) are now available.
"Conversational AI, or making human and computer interactions more natural, has been a goal since technology became ubiquitous in our society. Our mission is to bring conversational AI tools and capabilities to every developer and every organization on the planet, and help businesses augment human ingenuity in unique and differentiated ways," Lili Cheng, corporate vice president of Microsoft's AI and research group, wrote in a post.
The Azure Bot Service is designed to help developers create conversational interfaces while LUIS is designed for developing custom natural integrations.
The Bot Service provides an environment where these conversational bots can interact with customers on multiple channels across any device. Channels include Cortana, Facebook Messenger, and Skype. "Intelligence is enabled in the Azure Bot Service through the cloud AI services forming the bot brain that understands and reasons about the user input. Based on understanding the input, the bot can help the user complete some tasks, answer questions, or even chit chat through action handlers," the Microsoft Azure Bot Service and Language Understanding team wrote in a post.
Language Understanding is the key part of the "bot brain" that enables them to "think" and "reason" in order to make appropriate actions. The Language Understanding solution supports a number of languages in addition to English, and comes with prebuilt services for English, French, Spanish and Chinese. In addition, it provides phrase suggestions to help developers customize LUIS domain vocabulary in Chinese, Spanish, Japanese, French, Portuguese,German and Italian.
In addition, the company announced new capabilities for Azure Bot Service and Language Understanding. These features include: an updated user interface, an expansion of up to 500 intents and 100 entities for more conversational experiences, ability to customize cognitive services, and intelligent APIs that enable systems to see, hear, speak, understand and interpret.
"Think about the possibilities: all developers regardless of expertise in data science able to build conversational AI that can enrich and expand the reach of applications to audiences across a myriad of conversational channels. The app will be able to understand natural language, reason about content and take intelligent actions," the Azure team wrote. "Bringing intelligent agents to developers and organizations that do not have expertise in data science is disruptive to the way humans interact with computers in their daily life and the way enterprises run their businesses with their customers and employees."