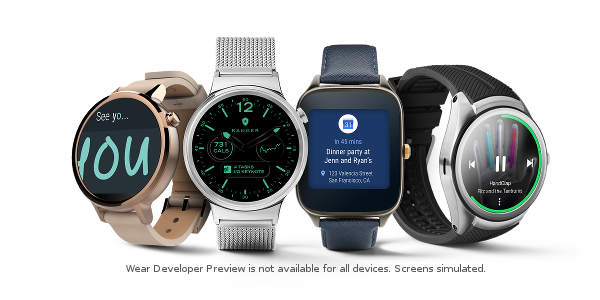 Developers can start preparing for the upcoming release of Android Wear. Google is launching the second version of the Android Wear 2.0 Developer Preview in order to give developers early access and a head start on their apps.
The first developer preview was released early this year at Google I/O. Since then, the company said it has been receiving feedback from the developer community, which it has taken into account in the new release.
(Related: Startup gets women into development through wearables)
Android Wear 2.0 Developer Preview 2 features Android Platform API level 24 to match Android Nougat, wearable drawer enhancements, and wrist gestures.
Wearable drawers are designed to give developers the ability to add action drawers and navigation drawers to their apps. It was first released with first version of the developer preview. In this preview, Google is adding support for wearable drawer peeking, designed to give users the ability to access drawers when they scroll. In addition, new capabilities have been added to enable developers to create custom wearable drawers.
Wrist gestures were introduced last year as a way for users to interact with their wearable with their wrist. In Preview 2, developers are getting the ability to add wrist gestures to their applications.
The company is also providing an updated SDK for developers to test through the official Android emulator, the LG Watch Urbane 2nd Edition LTE, and Huawei Watch.
Google plans to provide developers with more updates before the consumer release.