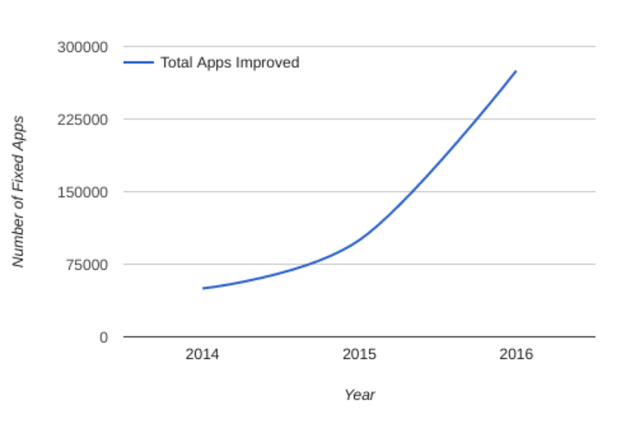 Android was found to be the most vulnerable product of last year, according to vulnerability and exposure database and information provide CVE Details. But Google said it is making strides every day to improve the security of Android. The company revealed insights into its app security improvements made over the last year.
"Our goal is to make Android the safest mobile platform in the world. That's why we consistently invest in technologies that bolster the security of the platform, its applications, and the global Android ecosystem," Google wrote.
In April, Google's Android security team explained how it helped developers fix issues in 100,000 applications through the Google Play App Security Improvement program. Since then, Google said it has reported 11 new security issues, which helped more than 90,000 developers update and improve more than 275,000 Android applications.
In order to help developers even further, the company is introducing a new Android security for developer's webpage where developers can find information about security issues, relevant articles, support, new issues, past issues, best practices, and a security checklist. "These resources are all aimed at improving your understanding of general security concepts and giving you examples that can help you address app-specific issues," wrote Rahul Mishra, Android Security program manager, in a post.