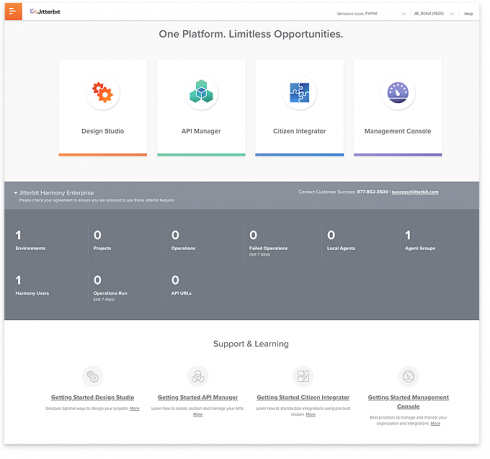 Enterprise integration platform-as-a-service solution provider Jitterbit announced the newest version of its Jitterbit Harmony iPaaS utility with the Summer '18 update today, focused on interconnecting the multitude of modern cloud services.
Jitterbit Harmony aims to lower the barrier of entry for users looking to interconnect and manage APIs with a click-based, low-code environment. This latest release features 500 pre-built example profiles for interconnecting APIs and enterprise applications like Salesforce, NetSuite, ServiceNow, Amazon S3, Box and now SAP S/4HANA and Workday with the Summer '18 release. It's also been updated to comply with GDPR, surpassing the security requirements, the company says.
"The key driver for this release is the number of new cloud apps which has exploded 30-fold over the past two years," the company wrote in its announcement. "The result is that connecting these systems and automating business processes end-to-end has become increasingly important as enterprise data becomes scattered across an ever-increasing number of internal and external systems. Companies need a way to empower teams of varying technical abilities to quickly compose innovative solutions through integration and APIs rather than relying solely on a small group of integration-specific developers to take the arduous, time-consuming and expensive route of manual coding."
The Summer '18 release of Harmony, in addition to the enhanced cloud application support, features updates to its customer dashboard, which now shows project information on the landing page for easier navigation; support for multiple identity providers for its improved single sign-on authentication; and the ability to schedule tasks directly from the Management Console rather than having to switch to Jitterbit Studio.
Other features include a new API manager, Harmony home page, enhanced management console, and new ideas portal.
More information is available here.