After being diagnosed with Type 2 diabetes, Benjamin Kerensa, a 31-year-old open-source contributor, searched for an app that would track his glucose levels and metrics.
He searched, and didn't find much. So, he created his own app.
In May of 2015, Kerensa was diagnosed with diabetes, and it wasn't long after when he decided to develop his app: Glucosio. Within the first week of September, Glucosio was released to the Google Play store. By early next year, Kerensa said Glucosio should be ready for iOS users.
Glucosio is the only open-source diabetes app that does glucose tracking with third-party integrations and crowdsourced research, led by Kerensa himself. It gives open-source developers the ability to use, copy, study or change the source code as a way to contribute to the project. Contributors can find the source code on GitHub, and the team behind Glucosio is always looking for feedback to improve the project.
(Related: Open source doesn't have to be scary)
"We are seeing new users install the app on a near daily basis, and the open-source project has been gaining a lot of attention in the greater open-source community," said Kerensa. "Because of how common diabetes is as a disease worldwide, pretty much every contributor who participates in the project knows of someone affected by diabetes."
Currently, Glucosio allows a user to enter and track blood glucose levels; anonymously support diabetes research by contributing demographic and glucose trends; and get helpful tips through an "assistant" with Glucosio. The assistant is currently not a live assistant; it gives predefined advice for diabetics like staying hydrated or checking blood sugar. As a long-term goal, Kerensa wants to turn the assistant into something similar to Google Now, but for diabetics, and without storing all of the user's data in the cloud. He said that Glucosio respects the privacy of users and allows them to be in control of their data.
He said he is continuing to add features that will help people with diabetes better understand their disease. One thing he is excited about is the possibility to integrate with platforms like openEHR to create built-in medication and glucose reminders, or to add Optical Character Recognition (OCR) so people with diabetes can scan the display of their glucose meters and input their last reading displayed on the Glucosio meter.
Although the Internet has plenty of resources for those diagnosed with diabetes, Glucosio allows a user to track and manage their own personal diabetes data and receive instant feedback from diabetics. Kerensa also said that Glucosio has a modern interface with colorful, easy-to-understand graphs for the user, which is unlike the other few apps that exist.
The initial goal of Glucosio was to allow opt-in-based crowdsourcing of diabetes data for researchers, and Kerensa said the goal for next year is to ship its API and "turn on that feature in the back end for those who have opted in and begin collecting anonymized glucose and demographic data that we can share with researchers." Some of this data includes the glucose levels and activity levels of people of different genders, ethnicities and age groups. With the more data they collect from users, the more information that researchers can use to conduct further studies on the disease.
"I'm very excited about the future of Glucosio, but most importantly about the future [of] open source and how that will play out in health and medicine," said Kerensa.
While the future for him seems to be a focus on software innovation, his past is filled with other notable open-source contributions.
How Kerensa got here
He started with open source in 2001, when he installed his first Linux distribution: Lindows, and at the time, he was an early user of Mozilla Firefox. He contributed to Ubuntu, an open-source Linux distribution, and also to projects like Debian, Ganeti, GNOME and more than 40 other open-source projects. He started getting involved with Mozilla in 2009, and for two years he was a Firefox Community Release Manager, where he oversaw the release of Firefox Nightly and Firefox ESR.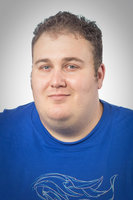 Through all of his experiences with open source and working on Glucosio, one thing he urged developers and open-source projects is to understand the importance of privacy. He said that since working in the open is transparent, it allows developers to trust the software being developed by a project or individual developer.
"I feel like we have duty to try to ensure to the best of our abilities that the software we are making is serving the end user," said Kerensa. "If privacy is compromised, it really cannot be serving the user best, can it?"
Kerensa has taken a break from contributing since his main focus is now with Glucosio, which is available in 20 languages and has been downloaded in every continent. He thinks that open source has the potential to bring big changes to healthcare, which is why he wanted to develop an open-source app that help a large group of people impacted by a disease. With more developers and enterprises getting involved, he thinks healthcare could be "the next big thing in open source."
"If we can bring Linux to cars and phones and IoT, then there is no limit to what we can do with open source," said Kerensa.