Although the Internet has plenty of resources for those diagnosed with diabetes, Glucosio allows a user to track and manage their own personal diabetes data and receive instant feedback from diabetics. Kerensa also said that Glucosio has a modern interface with colorful, easy-to-understand graphs for the user, which is unlike the other few apps that exist.
The initial goal of Glucosio was to allow opt-in-based crowdsourcing of diabetes data for researchers, and Kerensa said the goal for next year is to ship its API and "turn on that feature in the back end for those who have opted in and begin collecting anonymized glucose and demographic data that we can share with researchers." Some of this data includes the glucose levels and activity levels of people of different genders, ethnicities and age groups. With the more data they collect from users, the more information that researchers can use to conduct further studies on the disease.
"I'm very excited about the future of Glucosio, but most importantly about the future [of] open source and how that will play out in health and medicine," said Kerensa.
While the future for him seems to be a focus on software innovation, his past is filled with other notable open-source contributions.
How Kerensa got here
He started with open source in 2001, when he installed his first Linux distribution: Lindows, and at the time, he was an early user of Mozilla Firefox. He contributed to Ubuntu, an open-source Linux distribution, and also to projects like Debian, Ganeti, GNOME and more than 40 other open-source projects. He started getting involved with Mozilla in 2009, and for two years he was a Firefox Community Release Manager, where he oversaw the release of Firefox Nightly and Firefox ESR.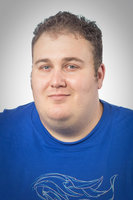 Through all of his experiences with open source and working on Glucosio, one thing he urged developers and open-source projects is to understand the importance of privacy. He said that since working in the open is transparent, it allows developers to trust the software being developed by a project or individual developer.
"I feel like we have duty to try to ensure to the best of our abilities that the software we are making is serving the end user," said Kerensa. "If privacy is compromised, it really cannot be serving the user best, can it?"
Kerensa has taken a break from contributing since his main focus is now with Glucosio, which is available in 20 languages and has been downloaded in every continent. He thinks that open source has the potential to bring big changes to healthcare, which is why he wanted to develop an open-source app that help a large group of people impacted by a disease. With more developers and enterprises getting involved, he thinks healthcare could be "the next big thing in open source."
"If we can bring Linux to cars and phones and IoT, then there is no limit to what we can do with open source," said Kerensa.