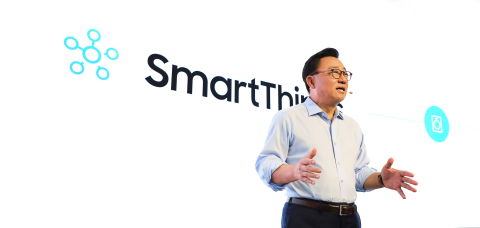 Samsung wants to make things smarter and the world more connected with new strategies, software and services announced at its Samsung Developer Conference this week. The company announced SmartThings Cloud, Bixby 2.0, new ARTIK secure IoT modules, and a new vision for an open and connected IoT experience.
"At Samsung, we're constantly innovating to deliver smarter, connected experiences for our consumers. Now we're taking a big step forward with our open IoT platform, intelligent ecosystem and AR capabilities," said DJ Koh, president of mobile communications business at Samsung Electronics. "Through an extensive open collaboration with our business partners and developers, we are unlocking a gateway to an expanded ecosystem of interconnected and intelligent services that will simplify and enrich everyday life for our consumers."
The announced SmartThings Cloud is a new solution that will unite SmartThings, Samsung Connect and ARTIK into one Internet of Things platform. With the SmartThings Cloud, developers can build connected solutions across all SmartThings compatible products, and provide interoperability between IoT solutions, Samsung explained.
"The newly united SmartThings will be an open ecosystem, ready to work with not only Samsung devices, but a wide range of connected devices. From early next year, consumers will have the freedom to choose from the world's broadest range of IoT devices and control them using just a single app," the company wrote. "With the new and – most importantly – open SmartThings Cloud, Samsung is connecting the fabric of the IoT experience and leading the democratization of the Internet of Things."
In addition, the company announced new ARTIK secure IoT modules to add performance and security features to the company's IoT appliances.
Bixby 2.0 is Samsung's latest intelligent assistant platform designed to make connected experiences more personal and open. Bixby features deep linking capabilities and improved natural language abilities for recognizing users and anticipating needs. Samsung is also announcing the first private beta program for the Bixby SDK.
"Today's assistants are useful, but ultimately still play a limited role in people's lives. People use them to set timers and reminders, answer trivial questions, etc. We see a world where digital assistant play a bigger role, an intelligent role, where one day everything from our phones, to our fridge, to our sprinkler system will have some sort of intelligence to help us seamlessly interact with all the technology we use each day," Eui-Suk Chung, executive vice president and head of service intelligence of mobile communications business at Samsung Electronics, wrote in a post.
The company also announced a new partnership with Google to extend the AR core platform to Galaxy devices as well as new virtual reality services such as Samsung VR, Samsung Internet VR, and Samsung PhoneCast VR.