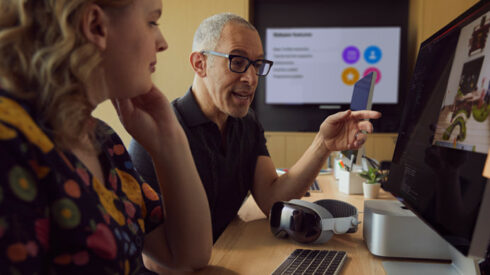 Apple announced the release of new software tools and technologies that empower developers to create apps for Apple Vision Pro, the company's first AR headset. 
The introduction of visionOS, a spatial operating system, within Vision Pro allows users to interact with digital content in their physical environment using the most natural and intuitive inputs available: their eyes, hands, and voice. 
Developers in Apple's global community will have the ability to design spatial computing apps that fully utilize Vision Pro's limitless canvas and seamlessly merge digital content with the real world. Through the visionOS SDK, developers can leverage the robust and distinctive capabilities of Vision Pro and visionOS to create fresh app experiences spanning various categories such as productivity, design, gaming, and more.
In the following month, Apple plans to establish developer labs in Cupertino, London, Munich, Shanghai, Singapore, and Tokyo, providing developers with hands-on opportunities to test their apps on Apple Vision Pro hardware and receive assistance from Apple engineers. Development teams will also have the option to apply for developer kits to facilitate rapid building, iteration, and testing directly on Apple Vision Pro.
"Apple Vision Pro redefines what's possible on a computing platform. Developers can get started building visionOS apps using the powerful frameworks they already know, and take their development even further with new innovative tools and technologies like Reality Composer Pro, to design all-new experiences for their users," said Susan Prescott, vice president of Worldwide Developer Relations at Apple. "By taking advantage of the space around the user, spatial computing unlocks new opportunities for our developers, and enables them to imagine new ways to help their users connect, be productive, and enjoy new types of entertainment. We can't wait to see what our developer community dreams up."
Developers can use Apple's other foundational frameworks, such as Xcode, SwiftUI, RealityKit, ARKit, and TestFlight, to construct innovative experiences that make use of the features offered by Apple Vision Pro. They can then create a wide range of app types that span the immersive spectrum. This includes windows, which possess depth and can exhibit 3D content; volumes that provide experiences viewable from any angle; and spaces that fully immerse users in environments featuring boundless 3D content. 
To aid developers in optimizing 3D content for their visionOS apps and games, a brand-new tool called Reality Composer Pro is available within Xcode. This tool enables developers to preview and prepare 3D models, animations, images, and sounds, ensuring that they appear stunning on Vision Pro.
The visionOS SDK, updated Xcode, Simulator, and Reality Composer Pro are available for Apple Developer Program members at developer.apple.com.