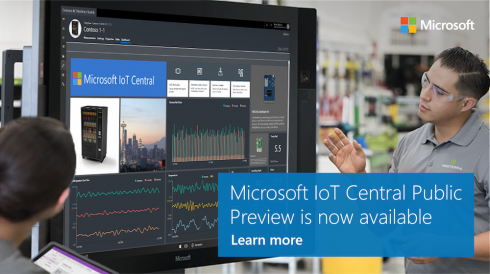 Microsoft is releasing a new solution to pave the way for enterprise-grade Internet of Things solutions. The company announced the public preview of Microsoft IoT Central is now available.
"IoT is fast becoming a key strategy for companies of all sizes, as they strive to get closer to their customers and offer great product experiences—all while reducing operational expenditures. Until now, however, it's been a major hurdle to gain the skills needed to build and manage connected solutions. This obstacle has been further compounded by concerns about security, scalability, and difficulties finding an IoT solution that has built-in best practices gained from years of experience in the sector," Sam George, director of Azure IoT, wrote in a post.  
The new service is a software-as-a-service (SaaS) solution that provides built-in support for IoT best practices and security capabilities. It aims to eliminate initial setup complexities, management burden and operational overhead. "Microsoft IoT Central allows companies worldwide to build production-grade IoT applications in hours—without having to manage all the necessary back-end infrastructure or learn new skills. In short, Microsoft IoT Central enables everyone to benefit from IoT," George wrote.
For security, the Microsoft IoT Central service provides industry-leading privacy standards and IoT privacy features such as role-based access and integration with Azure Active Directory permissions.
In addition, Microsoft IoT Central will be able to integrate with existing business systems like Microsoft Dynamics 365, SAP and Salesforce.
The company also announced the Azure IoT Hub Device Provisioning Service to provide zero-touch device provisioning and scalability. "The Device Provisioning Process was designed with the challenges of the supply chain in mind, providing the infrastructure needed to provision millions of devices in a secure and scalable manner," Nicole Berdy, senior program manager for Azure IoT, wrote in a post.