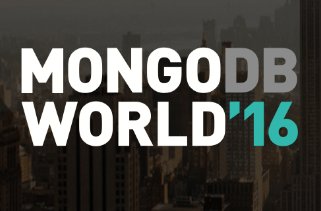 MongoDB held its user conference in New York City this week, where more than 2,000 attendees gathered to network and learn more about how they can utilize the NoSQL database.
"With data and analytics powering companies in every sector, the MongoDB community continues to grow rapidly," said Dev Ittycheria, president and CEO of MongoDB. "MongoDB World brings together this community of independent developers and IT professionals, from startups to Fortune 100 companies, to collaborate on giant ideas and how they are building the world's most innovative, modern applications."
(Related: MongoDB announces new database-as-a-service and real-time analytic solutions)
In addition to MongoDB's Atlas and Connector for Apache Spark announcements, other companies had news about products designed to improve their support for MongoDB.
Sumo Logic teams up with MongoDB for monitoring and troubleshooting
Sumo Logic announced its Sumo Logic App for MongoDB, designed to give developers a deeper view of the health and performance of their MongoDB Deployments. The new solution provides a way to monitor, optimize and secure modern apps. Users can get a complete overview of their infrastructure in one interface; identify and isolate issues; and speed up deployment.
"Today's IT teams are struggling with getting a deep, holistic view into the health of their database deployments, so they can [better] monitor performance, diagnose problems and audit access to identify potential risks," said Bruno Kurtic, founding vice president of product and strategy for Sumo Logic. "The Sumo Logic App for MongoDB provides a modern solution built on machine data analytics that integrates with MongoDB environments to provide actionable intelligence in a unified, content-aware view across all applications and supporting infrastructure."
Infusion and MongoDB announce strategic partnership
MongoDB certified partner Infusion announced its plans to collaborate with MongoDB in order to give businesses actionable information about their data. Infusion and MongoDB will work to redefine the way users interact and view data and help them build modern apps that leverage IoT and data analytics built on MongoDB.
"MongoDB and Infusion have been able to successfully develop combined, high-quality integration solutions that have been hugely impactful for our clients," said Alim Somani, president of Infusion. "Together, we are focused on helping our clients get the most value from their data, by delivering solutions focused on application modernization, customer experience, enterprise productivity and business insights that give them deep insight into their operations and enable them to make smarter decisions that truly drive their businesses forward."
Happiest Minds aims to help users migrate from RDBMS to MongoDB
Happiest Minds, a digital transformation, infrastructure, security and engineering services provider, announced the launch of R2M. R2M is designed to help the performance, scalability and management of new-generation Web apps. The solution features built-in monitoring APIs, and has proven its automated migration to MongoDB is 40% to 50% faster than other solutions.
"The relational database has been the pillar of enterprise data management for more than a few decades," said Prasenjit Saha, president of infrastructure management and security services at Happiest Minds Technologies. "The growth in data sources and user loads is pushing these databases beyond their limits, and the search for alternatives to meet the ever-changing market and data needs is vital. R2M will allow our clients to seamlessly migrate to these new alternatives and enhance the benefits they enjoy from today's best solutions."
Basis Technology announces technical partnership with MongoDB
Basis Technology is partnering with MongoDB in order to let users integrate Rosette text analytics and multilingual search within MongoDB's native in-database search. "One of the most important requirements for a database lies in being able to find the right data when you need it, and search is one of the most natural ways users can navigate the vast amounts of data generated by modern applications," said Alan Chhabra, MongoDB's vice president of partners. "We are excited to work with Rosette so MongoDB users can further enhance search for the critical data they need across multiple languages."