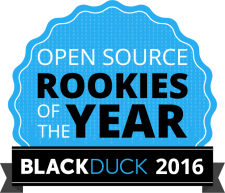 Every year new open-source software projects emerge, but only a few will have an impact on the developer community. To distinguish the interesting and innovative ones, Black Duck has announced its ninth annual Open Source Rookies of the Year list, designed to recognize last year's top new open-source projects.  
"This recognition is a tribute to the success and momentum of these projects," said Patrick Carey, director of product management for Black Duck. "The selections for 2016 show how diverse and ambitious open-source software development has become. From communications to healthcare and beyond, they offer innovative solutions to a range of consumer- and enterprise-grade problems."
(Related: IBM pushes accessibility with open-source projects)
The chosen open-source projects are meant to reflect the ongoing trends in the industry. This year, trends include stretching the blockchain, going beyond basic database data, deep learning, redefining software-defined networks, container clutter, network security, and education.
The 2016 Black Duck Open Source Rookies of the Year are (in alphabetical order):
Ansible Container: A container automation solution
CarbonData: An indexed columnar data format for Big Data analytics
Deep Scalable Sparse Tensor Network Engine (DSSTNE): A library for developing deep learning and machine learning models
Kolibri: An offline app for universal education
OpenCORD: Central Office Re-architected as a data center solution
Poseidon: A network situational awareness solution
Sawtooth Lake: A distributed ledger platform for the Hyperledger blockchain
Trireme: A production scale application segmentation solution