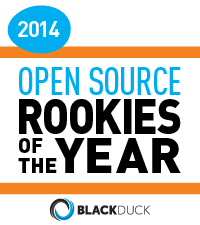 Each year, hundreds of open-source projects get started, but only a handful are appealing, interesting or innovating enough to stay for years to come. In order to recognize those that demonstrate significant traction within the developer community, Black Duck has released its seventh annual open-source rookies of the year awards.
"I'm always excited about publishing our annual Open Source Rookies of the Year report," said Dave Gruber, vice president of product management & product marketing at Black Duck Software. "It reflects the highly visible projects from well-known contributors, and also reveals hidden gems that often grow into important, meaningful projects."
The honorees for 2014 are (in alphabetical order):
cAdvisor: Short for Container Advisor, cAdvisor provides an understanding of the resource usage and performance characteristics of a user's running containers
CockroachDB: A scalable, geo-replicated and transactional data store
CodeCombat: A multiplayer programming game that teaches players how to code
DebOps: A collection of Ansible playbooks and roles
IPFS: A distributed file system
Kubernetes: Google's open-source container cluster management system
Neovim: A project looking to become the next generation version of the Vim text editor
OpenBazaar: A decentralized marketplace for trading using Bitcoin
Storj: Provides secure, private and encrypted cloud storage
Terraform: A tool for building, combine and launching infrastructure
In addition, Drone CI received an honorable mention for its Continuous Integration platform written in Go and built on Docker.
The results of the Open Source Rookies of the Year awards were collected by Black Duck's Open Hub, which tracks community metrics of open-source projects.
"Navigating the more than 1 million meaningful open-source projects in the world is becoming an overwhelming task for developers today, so we are happy to help leverage the Black Duck KnowledgeBase and Black Duck Open Hub to identify a short-list of the newest up-and-comers from the past year," said Gruber.