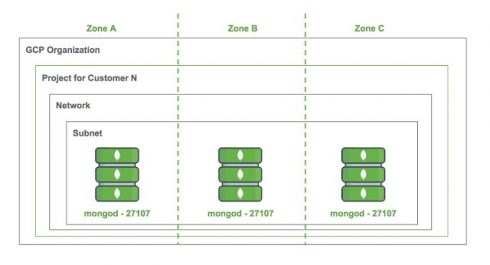 After popular demand, Google has announced it is expanding MongoDB availability across most Google Cloud Platform regions as well as on Cloud Launcher. MongoDB is available on Google Cloud through its database-as-a-service solution, MongoDB Atlas.
"With over 35 million downloads and customers ranging from Cisco to Metlife to UPS, MongoDB is one of the most popular NoSQL databases for developers and enterprises alike," Kent Smith, cloud customer engineer at Google, wrote in a blog post. "With MongoDB Atlas, you get a globally distributed database with cross-region replication, multi-region fault tolerance and the ability to provide fast, responsive read access to data users around the globe. You can even configure your clusters to survive the outage of an entire cloud region."
MongoDB Atlas on GCP is now available in Iowa, South Carolina, Oregon, North Virginia, Sao Paulo, Belgium, London, Frankfurt, Taiwan, Mumbai, Tokyo, Singapore and Sydney. "With this expanded geographic availability, you can now join the wide variety of organizations around the world, from innovators in the social media space to industry leaders in energy, that are already running MongoDB on GCP," Smith wrote.
According to Smith, MongoDB Atlas on GCP can be used to reduce operational overhead of setting up and scaling databases, and enable team members to focus on building apps. In addition, it provides multiple sharing policies and enables users to distribute data across a cluster. Clusters are managed into projects and live inside a Virtual Private Cloud per region. Users can configure cross-region replication from MongoDB Atas' UI, and automatically scale the storage of clusters or enable sharding with no manual intervention.