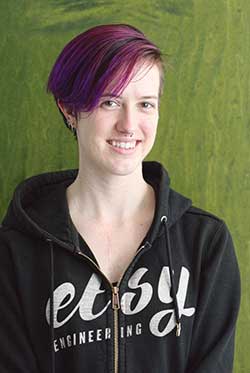 It might be a surprise to hear that Katherine Daniels, senior operations engineer at Etsy, studied art and creative writing before she switched to computer science.
Feeling "burned out" in the liberal arts program, Daniels instead went on to obtain a degree in computer science from Colorado State University. She appreciated how her computer science classes required some creativity, and they lacked the subjective grading that is found in creative disciplines. Simply put, it was clear in computer science, whether you were getting something right or not.
She does very little programming in her spare time, but she has written a script to crawl a subset of Wikipedia pages looking for metal bands with violins in them. Most of her free time is spent rock climbing and taking cello lessons, and she's helped write an eBook on effective DevOps.
(Related: Lauri Saft paves her own way at IBM)
While the cello is one of the hardest instruments to pick up as an adult, Daniels has seen more challenges in the software industry. She's watched it come to terms with ideas like DevOps, discussed how principles can be expanded to benefit more roles in the modern software development worlds, and watched barriers rise between engineers and non-engineers.
The biggest challenge she's seen—one that she has experienced herself—is working in what's still considered a decisively male-populated industry. Given where she is right now, it's safe to say she knows that women can—and will—thrive in programming and other technology careers.
How she got where she is
Daniels started her career doing research and development and systems engineering on workstations, with a focus on Linux storage and Windows graphic solutions. She then made a big move from Colorado to New York, where she landed a job as a system administrator for Livestream, a video livestreaming platform.
Daniels loved tackling the problems in operations but never felt like she had a lot of time to go in-depth in an area, since she was working in a "one-person ops team," as she puts it.