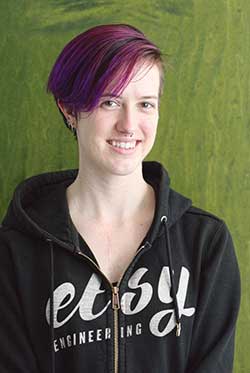 It might be a surprise to hear that Katherine Daniels, senior operations engineer at Etsy, studied art and creative writing before she switched to computer science.
Feeling "burned out" in the liberal arts program, Daniels instead went on to obtain a degree in computer science from Colorado State University. She appreciated how her computer science classes required some creativity, and they lacked the subjective grading that is found in creative disciplines. Simply put, it was clear in computer science, whether you were getting something right or not.
She does very little programming in her spare time, but she has written a script to crawl a subset of Wikipedia pages looking for metal bands with violins in them. Most of her free time is spent rock climbing and taking cello lessons, and she's helped write an eBook on effective DevOps.
(Related: Lauri Saft paves her own way at IBM)
While the cello is one of the hardest instruments to pick up as an adult, Daniels has seen more challenges in the software industry. She's watched it come to terms with ideas like DevOps, discussed how principles can be expanded to benefit more roles in the modern software development worlds, and watched barriers rise between engineers and non-engineers.
The biggest challenge she's seen—one that she has experienced herself—is working in what's still considered a decisively male-populated industry. Given where she is right now, it's safe to say she knows that women can—and will—thrive in programming and other technology careers.
How she got where she is
Daniels started her career doing research and development and systems engineering on workstations, with a focus on Linux storage and Windows graphic solutions. She then made a big move from Colorado to New York, where she landed a job as a system administrator for Livestream, a video livestreaming platform.
Daniels loved tackling the problems in operations but never felt like she had a lot of time to go in-depth in an area, since she was working in a "one-person ops team," as she puts it.
After a few years, she happily landed a job at Etsy, but during that time she said she dealt with a lot of challenges that came with being the only woman on engineering teams. In the past, Daniels has dealt with unwelcome advances and sexual harassment at professional events, and was told she was everything from "too aggressive," "too money-focused," and that she needed to be "more assertive" to get her ideas heard.
Daniels also said she was the only out queer person in previous organizations, which "led men to thinking that I will be on board with their objectifying or harassing other women in front of me.
"It was incredibly frustrating, and I gave serious consideration to leaving the industry in the past, and probably would have by now had I not joined Etsy."
According to Daniels, Etsy has 1.6 million active sellers and 24 million active buyers as of Dec. 31, 2015. The architecture is "straightforward," using Linux, Apache, MySQL and PHP for the site itself; Solr and Elasticsearch for search; and Hadoop and Vertica for data management.
"Engineers deploy code, whether that be for the site, for configuration, or for any of our other stacks, upwards of 30 times a day on average," said Daniels. "Different engineering teams collaborate a fair amount to make sure everything is working as it should be."
Daniels said that the Etsy culture is far different from other stereotypical tech companies that everyone seems to love (Daniels says to picture the beer/pizza/ping-pong idea culture). The culture is one of "genuine inclusivity," and she said that in the workplace, people are much more mindful and considerate than what she has seen at other organizations. Recently, the company even crafted gender-neutral bathrooms in its headquarters.
"[Etsy] thinks about how their decisions will impact other people both technically and interpersonally," said Daniels.
She has been able to push past her own barriers that she faced in the industry. For others, she suggests getting women into technology and software, but with more of a focus on retaining the women that are already in the industry. She said there are few senior women in either engineering or management positions, which is a result from women leaving the industry entirely early in their careers.
"This leads to things like fewer women being involved in the types of organizational decisions that can affect other women's experiences in the workplace," said Daniels. "This also means less guidance and fewer role models for women just entering the industry, so they might not have people to talk to about these gender-specific challenges or someone who has been there and can advocate for them."
Daniels has taken matters into her own hand, and when she's away from her computer, she tries to help the New York City feminist community grow. She has volunteered with "Lesbians Who Tech" and has spoken at five O'Reilly Velocity DevOps conferences. She also cofounded MergeSort, a feminist hackerspace in the city, which she recently had to step down as co-organizer due to time constraints. The events that the group has put together have all been "hack nights," where people bring their projects to work on together. Recently, she has been helping organize events for Ladies Who Linux NYC, where the meetups generally involve talks followed by some hand-on coding around related topics, said Daniels.
At Etsy, Daniels has been thankful to have an ops team that has the time and ability to take the "tools from good to great," she said, which she finds "incredibly rewarding." She has worked to provide operational support, performance and availability for both the customer-facing site and internal tools for the company. Some big projects she's worked on have included helping the data platform team to install a new Hadoop cluster, as well as moving their existing cluster between datacenters. She has also built and maintained multiple ELK (Elasticsearch, Logstash, Kibana) clusters, along with managing multiple hardware upgrades and creating tools to make maintenance easier.