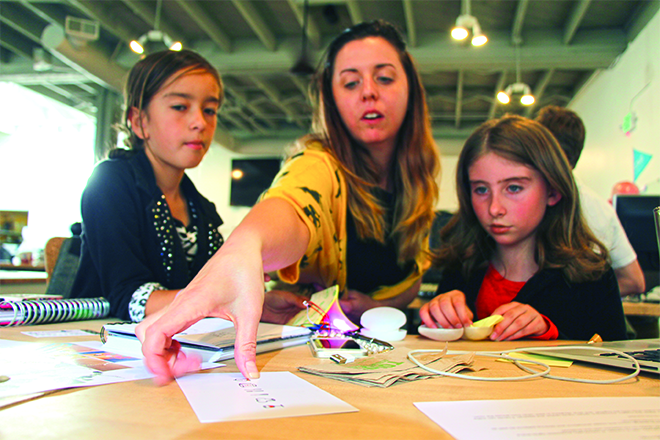 At the age of 12, Sara Chipps taught herself how to code. She wanted to get computers to "call" each other, with the hopes that it would increase her circle of friends. While she searched for a way to make computers talk, she instead found a whole new community of kids who were creatively using code. These were the people she could connect with.
A part of her wondered, was there a way to get more kids—specifically adolescent girls—excited about code and technology?
Fast-forward to today, Chipps has helped develop a programmable wearables device designed specifically for a new generation of girls who are excited and passionate about building, coding, and developing new technologies.
(Related: Etsy's Katherine Daniels on how to make a workplace more inviting for women)
Chipps is cofounder and CEO of a new company called Jewelbots, named for the technology-enabled bracelets for young girls, who can code them and then use them for direct communication purposes. Simply put, they are a modern take on the friendship bracelet.
Using the Jewelbots app and other features through basic if/then statements, the bracelets are able to send text messages or e-mails, integrate with social media platforms, receive weather updates, notify parents, and even fly a drone. Girls (or boys, since the bracelets are gender neutral) can use free Arduino software to program their Jewelbots, and then directly upload their code to the Jewelbots site, collaborating with other users for new ideas. Right now, Jewelbots support Android, the iPad and the iPhone.
The idea to create Jewelbots came from Chipps' passion for coding and tinkering with technology, as well as her experiences as a tech-loving young girl. Fashion-tech entrepreneur Brooke Moreland joined Chipps in 2014 in order to create something that would inspire a new generation of women entering STEM fields.
"I've always wanted to reverse-engineer the process of a Minecraft or MySpace, something that is inspiring lots of people to teach themselves how to code," said Chipps. "I wanted to figure out a product that girls love, and get them excited about it."
Before Jewelbots, Chipps was a professional developer for 15 years. She attended Penn State University where she studied computer science.
In 2010, she cofounded Girl Develop It, a nonprofit focused on helping women become software developers. The nonprofit has helped teach 6,000 women to build software, it claimed. She was also the CTO of Flatiron School, a school dedicated to teaching people of all ages how to build software, and she has also been a part of the open-source community since 2001. Today, she continues to code using JavaScript in her spare time, with Wednesdays being her "coding day."
Along with Chipps' success came some struggle. Her challenges were being a young woman attending conferences and expos in a field that was—and still is—primarily dominated by men. "There are always challenges when there are few people like you in the room," she said.
"It's always difficult to have your opinions heard and expect change when you are different from everyone else," said Chipps. "Thankfully, I've had great male and female mentors who have helped me overcome those challenges."
These problems that young girls and women face in the technology and software development industry are exactly why Chipps and her team created Jewelbots, according to her.
"We want to create a generation of tinkers, of inventors, and engineers that don't look like the current demographic makeup of what we traditionally see these folks as," said Chipps. "That's the whole reason why we are [creating Jewelbots], to change that."
Chipps said their first alpha units are shipping this month. In presale, they have sold about 5,000 bracelets, and the remainder will ship by late summer. The design and development have taken longer than expected, she said, mostly because the team has not been happy with a few design decisions along the way, and they want to make sure they include girls' feedback into the devices.
In an early version of Jewelbots, the biggest concern was size of the bracelet. A lot of the girls said the wearable device was too big, so the challenge for the design and development team was fitting in all of the electronics needed into a smaller housing.
"We ended up going through three iterations of design and product to make sure we are incorporating all the feedback from the girls that we met with as we go," said Chipps. "It was really valuable to be able to sit down with people in our demographic to talk to them about what's exciting to them."
The team is full-speed ahead, said Chipps, and since there are currently no wearables like it on the market, she hopes that this will be an engaging device that girls will love—and love to use for coding.