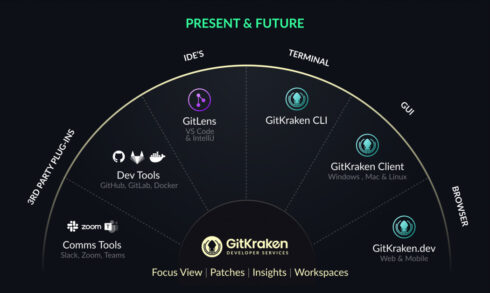 GitKraken introduced a set of dev tools tools are now available as part of a unified suite, ensuring seamless interaction between different developer environments. 
It has introduced the GitKraken CLI, which enables Git collaboration directly from the command line. 
The second new tool is the GitKraken Browser Extension, which enables developers to open repositories and commits from the browser. It is compatible with Chrome, Firefox, and Edge, and supports popular platforms like GitHub, GitLab, Azure DevOps, and Bitbucket. 
​​"More than ever before, building software is a team sport. Our customers have been asking GitKraken to fill the void around dev collaboration, and the early adoption of our new team features has been incredible across 2023," said Matt Johnston, CEO of GitKraken. "Adding a CLI, an IntelliJ extension, and making the browser a first-class developer environment, enable GitKraken to bring better productivity and collaboration to every developer – whether they work alone, as part of a small team, or in global corporations with team members spread around the world."
The entire GitKraken suite now connects to the company's collaboration services, including Shared Workspaces, Cloud Patches, Focus Views and developer-centric DORA Insights. According to the company, these collaboration features have become wildly popular with engineering teams of all sizes in the past year. The company also believes they represent a massive opportunity for GitKraken to evolve from making individual developers more productive, to also enabling distributed teams to collaborate as though they're sitting in the same room.
GitKraken has also reduced the prices for the first and second seats of the suite to enhance affordability for developers worldwide. The first two seats now cost $5 per month per seat, which is a 50% reduction from the regular price of the GitKraken Pro plan. 
Additionally, the company is preparing to launch GitKraken.dev, which will include collaboration features that can be accessed from the web and mobile. GitKraken plans to bring GitLens, a popular VS Code extension with over 25 million installs, to the IntelliJ IDE ecosystem in early 2024.