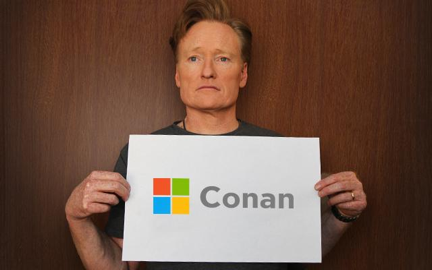 As Jimmy Fallon gears up to take over The Tonight Show from Jay Leno over on NBC, Conan O'Brien pondered how he would've handled another job he was the first choice for: Microsoft's CEO.
The funnyman and host of "CONAN" on TBS took to LinkedIn to explain why he turned down the Microsoft CEO job, and how he would've turned Microsoft back into an "industry titan" with his "three-point action plan: 1. Zune 2. More Zune 3. Even More Zune."
O'Brien congratulated newly announced CEO Satya Nadella on being the "right second choice" for the job after Conan preemptively decided to send a "Thanks, but no thanks" note with an Edible Arrangement to Microsoft's Redmond headquarters before the board could offer him the job.
O'Brien knew Microsoft would never let him rename the entire company CONAN, and that was a deal-breaker.
The comedian did have several other "brilliant ideas" on how to take Microsoft back to the top, which of course he wrote down in a personal journal entitled "Poetry." The tech giant should seriously consider implementing number three:
• "I would have spent hundreds of millions of dollars on a marketing campaign to get everyone in America to 'Bing their symptoms' after that weekend trip to Juarez."
• "The Surface tablet would have come with new peripheral device I called 'Tiny Windshield Wipers.' "
• "Every single version of the Windows operating system would have been voiced by Scarlett Johansson."
• "Excel 2014 would have built-in Instagram filters."
Microsoft and Bill Gates have been frequent joke topics for O'Brien over the years, and he even interviewed Gates back at the 2005 Consumer Electronics Show in Las Vegas. So in the event that Satya Nadella isn't cutting it as CEO, O'Brien already has an in with Bill.
"It would have been easy to run a scrappy startup like Microsoft," O'Brien wrote. "As easy as booting up Windows '98 on my Compaq Presario and winning a game of Minesweeper."