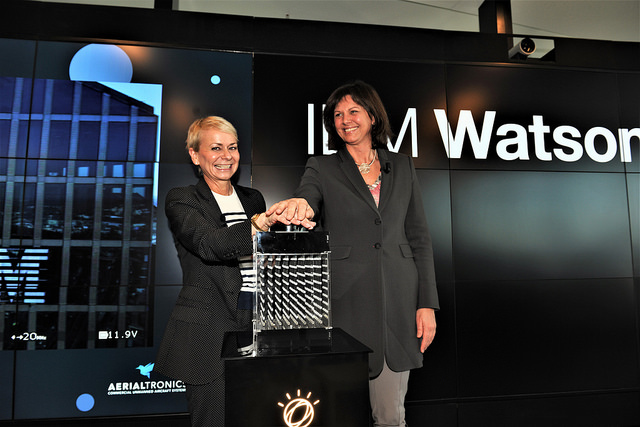 As the Internet of Things starts to gain interest from consumers, companies are starting to invest more time and resources into it. IBM just announced a new US$200 million global headquarters for its Watson Internet of Things business in Munich, Germany.
"We have reached a tipping point with IoT innovation: We now have over 6,000 clients and partners around the world, many of whom are now wanting to join us in our new global Watson IoT center to co-innovate," said Harriet Green, general manager of IBM Watson IoT and cognitive engagement and education at IBM. "Together we are building a new global IoT innovation ecosystem that will explore how cognitive and IoT technologies will transform industries and our daily lives."

(Related: FTC calls IoT challenge a 'no-win situation')
As part of the new headquarters, IBM will work with companies such as Avnet, BNP Paribas, Capgemini and Tech Mahindra on areas such as a new joint IoT lab, Watson IoT-based banking solutions, digital transformation, and connected homes and vehicles.
IBM also formed other partnerships to expand its IoT push. It is partnering with Arrow Electronics and Indiegogo to help bring new IoT ideas to life. Together, the companies will bring the IBM Watson IoT platform and cloud services together with Arrow and indiegogo's ideation-to-production services.
"We're very excited to be partnering with Arrow and IBM to help entrepreneurs bring their wildest IoT dreams to life," said David Mandelbrot, CEO of Indiegogo. "We know that fundraising is only one piece of the entrepreneurial puzzle, and by working together with IBM and Arrow, we'll be able to continue making it easier for entrepreneurs to bring their ideas all the way from concept to market."
IBM is also partnering with Bosch, a technology and services provider, on industrial IoT. As part of the collaboration, the Bosch IoT Suite services will be open to IBM Bluemix and IBM Watson IoT Platform clients.
"IoT is changing and transforming everything from business to life," said Rainer Kallenbach, CEO of Bosch. "Only those companies will succeed that are able to collaborate in ecosystems. Only new ecosystems provide the strategic basis for open platforms and interoperability. Together we will make IoT solution development easier and faster for our customers."
Other partnerships include Visa's mission to bring secure payment experiences to IoT devices, and the French National Railway Company planning to use IBM Watson IoT on IBM Cloud to reduce maintenance costs and improve travel experience.
"Over the next few years, the Internet of Things will become the biggest source of data on the planet, with billions of connected devices streaming information about their status, their location and their health," said IBM's Green.
In addition, VizExplorer and VMware are following IBM's lead with a new partnership to deliver an integrated IoT solution. The partnership aims to help users maximize the value of IoT while managing, monitoring and securing their solutions. The first collaboration is expected to be a healthcare-specific solution designed to optimize device and patient operations in hospitals. The solution will also provide real-time analytics and reporting on the medical staff productivity as well as use of medical equipment, resources and inventory.
"The combination of VMware IoT and VizExplorer Analytics will help the healthcare industry better track devices and patients to ultimately respond faster and more efficiently to their needs. Healthcare is just the first of many industries we hope to impact," said Mimi Spier, vice president and head of business development, GTM strategy and marketing for IoT at VMware.