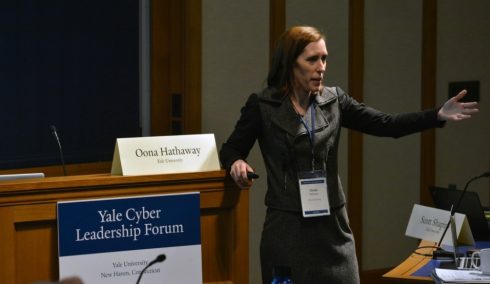 Yale University is releasing a new report on the challenges and problem areas of cyber risk in today's modern world. The report is based off of discussions from the second annual Yale Cyber Leadership Forum in April. The forum looked at the divide between the law, technology, and business communities as well as focused on creating approaches for dealing with threats.
"To address cyber threats, we need to bring together specialists from different sectors to work together and learn from each other," said Oona Hathaway, director of the Yale Cyber Leadership Forum. "The Forum aims to create conversations across disciplinary, professional, and technical boundaries. The more people we can bring into the conversation, the better. I hope the report will help advance critical thinking and help us all move toward a better understanding of cyber risk and how to combat it."
The report looks at four focus areas: cyber risk, legal and technical tools available to address cyber risk, business-specific challenges, and emerging threats.
Atom 1.29 released
The latest release of the hackable text editor Atom is now available with new bug fixes and improvements. The release features tree-sitter performance improvements and co-author suggestions.
Tree-sitter performance improvements is a new experimental parsing system. With this improvement, the team says all parsing is performed on a background thread to free up the main thread and improve responsiveness. Co-author suggestions queries for users mentionable in remotes of the local repo.
LG opens new AI lab
LG has announced it is creating an AI research presence in North America. The company announced a new AI research lab in Canada, which is an extension of its newly expanded lab in Santa Clara.
"AI will ultimately touch everybody's lives, transforming the way we live, work and play," said I.P. Park, president and CTO of LG Electronics. "Early implementations of AI in connected devices today are setting the stage for tomorrow's smart cities, smart homes, smart businesses and smart devices, all with capabilities that no one has even dreamed of yet." He said the North American labs and LG's research partnership with the University of Toronto will play a key role in developing source technologies defining that future.
The company has a five-year and multi-million-dollar research partnership with the University of Toronto to build on LG's Open Platform-Open Partnership-Open Connectivity strategy.
GitHub Desktop 1.3
GitHub is giving new features to its Electron-based desktop app with the release of GitHub Desktop 1.3. The latest release features notifications for when a user's branch diverges with their repository default branch.
"We've found that one of the easiest ways to prevent really complicated merge conflicts is to merge early and often. But if you're working on a branch, you shouldn't have to lose your focus just to periodically check if there are updates on the master branch. You'll now be notified about changes on your default branch that are not in your current branch, and hopefully prevent merge conflicts from getting unwieldy," the company wrote in a post.